Subscribe to Tribune PulseView PAST ISSUES
We will be conducting some micro-surveys to see what is important to the Transplant community. One question at a time, simply click the response to participate!
What DO THINK is the most important thing for TTS to focus on?
Education

Networking

Providing a global forum for international issue

Global scientific exchange

Public policy
TTS 2018 - Lunch & Learn Sessions are filling up quickly -
reserve your seat!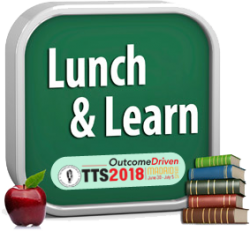 Lunch and Learn Sessions will feature small groups with a maximum of nine delegates matched with a facilitator of their choice. Sixty groups over a three-day are planned.
Transplantation DIRECT Journal - Featured Article
Submitted by Dr Peri Kocabayoglu Editorial Fellow, Transplantation.
Adapting the Surgical Apgar Score for Perioperative Outcome Prediction in Liver Transplantation: A Retrospective Study
Pearson ACS, Subramanian A, Schroeder DR, Findlay JY.
Transplant Direct. 2017 ;3(11):e221.
The surgical Apgar score (SAS) entails parameters including the lowest heart rate, lowest mean arterial pressure, and estimated blood loss (EBL). In this retrospective analysis of 628 liver transplantations, the authors developed a modified SAS that can be utilized to predict early morbidity and mortality. This modified version of the SAS, termed SAS-LT, is calculated by replacing the EBL parameter with volume of red blood cells transfused. One hundred five out of 628 liver transplant recipients (16.7%) included in this study demonstrated serious perioperative morbidities or mortalities. The SAS-LT score had a similar predictive ability compared to models for end-stage liver disease, Acute Physiology and Chronic Health Evaluation III, and Sequential Organ Failure Assessment scores. In fact, the SAS-LT proved to be a straightforward intraoperative score predicting death or severe complications within the early postoperative period. Further studies into other intraoperatively measured parameters and variables will be necessary to optimize the approach while the total volume of RBCs transfused during transplantation should be studied as an independent predictor of outcomes.
---
Canada - Organ donation by Humboldt Broncos player inspires others - Donation agencies across Canada say registration jumped after bus crash that claimed 15 lives
Humboldt Broncos defenceman Logan Boulet, 21, was from Lethbridge, Alta. Boulet had recently signed an organ donation card and was kept on life support while matches were found for his organs. He was expected to save the lives of at least six people. (SJHL)
---
In the News
Life of a liver awaiting transplantation
Twenty year collaboration leads to human trial of lung transplant drug
Man's second face transplant is a world first
Hepatitis C Treatments Reduce Transplants Therapies also appear to reduce liver-related mortality
Risk of Fatal Infection After Kidney Transplant Drops in Finland
Dialysis providers' awareness of racial disparities in transplantation is low
Regenerative Medicine Advanced Therapy: The Latest Special FDA Designation
Direct-acting antivirals improve liver transplant survival, impact wait-list composition
Approaching CTEPH Metabolically and Surgically at the 38th Annual International Society for Heart and Lung Transplantation (ISHLT) Annual Meeting & Scientific Sessions
Belarus' accomplishments in organ transplantation emphasized
Canada - 4,500 Manitobans sign organ donor cards after Humboldt
Kidneys Initially Deemed Unfit For Transplant Prove Viable, Study Shows
Molecular Diagnostics Pinpoint Heart Transplant Trouble
Bluetooth program gives lung transplant patients brighter outlook
Pig may come to rescue of renal failure patient: Experts