Subscribe to Tribune PulseView PAST ISSUES
TTS 2018 Thank you and Access to recording and photos

TTS MEMBERS CLICK HERE TO ACCESS THE RECORDINGS
The Transplantation Society along with the Sociedad Española de Transplant and the Sociedad Madrileña de Trasplantes want to 
THANK YOU FOR YOUR PARTICIPATION
 and also acknowledge the exceptional contributions, creativity and support from the many stakeholders and participants that made TTS 2018 the outstanding success that it has become.
We wish to single out the following groups and convey our deepest thanks to their coordinating leaders:
To the many who served on a multitude of sub-committees of the TTS 2018, we wish to express our deepest thanks and appreciation for your commitment over the last two years and the voice of your wisdom on countless decisions made for this Congress.
To the numerous award, abstract, plenary, SOTA and Postgraduate Course speakers, session chairs and abstract reviewers from around the world, who contributed their expertise to ensuring that this TTS 2018 had a deep and robust scientific program.
To the various sections (CTRMS, TID, IXA and IPTA) and other groups (WTGF, WIT, vGTL, DOI and ITNS) who have created an interesting pre-congress workshop program.
To the Young Members Committee and their leaders who organized career networking activities, and delivered a rich cultural and human co-curricular component for the Congress trainees, we wish to convey our most heartfelt appreciation.
To the Women in Transplantation Committee for having hosted several learning and networking activities throughout the Congress and thus having promoted the role and furthered the understanding of women in transplantation.
To the sponsors and exhibitors without whom it would have been impossible to provide our community with a very rich content in the Exhibit Hall.
To the logistics support companies (Rent Multimedia, El Antiguo Convento, Servis, Barcelo Congresos and IFEMA) who provided the staging, audiovisual support, meals at all events and lunches/breaks, signage and booth building, etc; all of which contributed to create a unique ambiance for all aspects of the Congress.
The TTS PCO team, for their passion, energy and heart that made this Congress the unique human experience that it became!
TTS 2018 in Photos
TTS PRESIDENT AND PRESIDENT-ELECT VISIT TTS IHQ
On Wednesday, July 25, the staff at TTS IHQ were pleased to welcome Professor Mehmet Haberal and Dr. Marcelo Cantarovich to our International Headquarters. For many of the staff, it was their first time meeting our new President and it offered Professor Haberal the opportunity to inspire our IHQ team about the great work TTS does around the world.
August Issue of Transplantation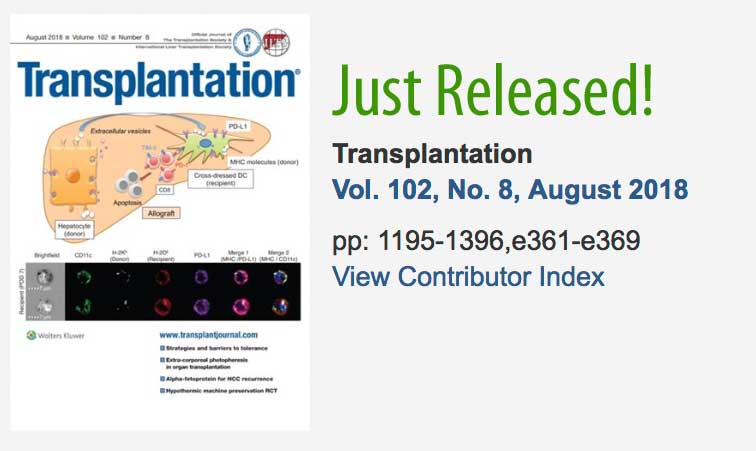 Starting with machine preservation in its many guises, this issue includes a contemporary analysis of the strategies and barriers to transplant tolerance. How many donors could there be, is a question asked and answered. What is the best model of HLA heterogeneity to predict development of DSAs? There is interest for liver, lung, cardiac, intestinal, composite tissue and Islet transplant programs. Much to read and a whole month to read it in.
CLICK HERE TO READ THIS ISSUE (Rquires LOGIN for full articles) 
TTS MEMBERS CLICK HERE for full ACCESS through our referral link 
MESOT 2018 is almost here!
TTS will be exhibiting at MESOT and a large number of TTS members will be attending or presenting at the Congress. There is still time to register, see link below!
---
In the News
Progress in Graft Survival Has Slowed
July 27 - A team led by Maarten Naesens, MD, of University Hospitals Leuven in Belgium, conducted a cohort study of 108,787 recipients of deceased (brain death) donor kidneys across 21 European countries from 1986 to 2015. From 1986 to 1999, 1-, 5- and 10-year hazard rates for allograft loss after transplantation declined by 64%, 53%, and 45%, respectively. From 2000 to 2015, however, these rates declined by 22%, 47%, and 64%, respectively.
---
3 biological parents, 1 child, and an international controversy
July 27 - The story of mitochondrial replacement therapy shows how ethically tricky genetic manipulation is becoming.
---
How have pediatric VADs advanced and what's next?
July 18 - Pediatric ventricular assist devices (VADs) have been associated with better survival to heart transplantation in recent years but infants and those with congenital heart disease (CHD) continue to have worse outcomes, researchers reported in the Journal of the American College of Cardiology.
---
Legal Liver Transplant Focuses Attention On The Human Organ Trade
July 27 - In surely one of the most bizarre stories of recent weeks, former FC Barcelona president, Sandro Rosell, was forced to deny claims that he illegally purchased a human liver for ex-Barcelona defender Eric Abidal in 2012, after a report in Spanish newspaper El Confidencial claimed police had intercepted phone calls of Rosell allegedly admitting the purchase. A statement by FC Barcelona flatly denied the allegations, and pointed out that a Catalan court had shelved an investigation into the matter in 2017.