Dr. David E.R. Sutherland
---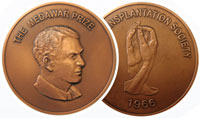 Introduction of the
2012 Medawar Prize
Recipient
---
The Transplantation Society is fortunate to have a great wealth of scientific talent among its membership. This year, the Medawar Prize Committee received nominations for many qualified individuals who have greatly contributed to the field of transplantation. After much deliberation, we are delighted to announce the result of the selection process and introduce to you the 2012 Medawar Prize recipient, David E.R. Sutherland.
---
David E.R. Sutherland, MD, PhD
---

U.S. Army - 1969

Transplant
Fellowship photo
Dr. Sutherland started his research career in immunology under the mentorship of Dr. Robert A. Good at the University of Minnesota (UM) Medical School, and graduated in 1966. He then interned at West Virginia University, served two years in the United States Army, and completed his Surgery Residency and a Transplant Fellowship at the UM. In 1976, he joined the University Faculty, where he has spent his entire career. He received his PhD in 1977, was promoted to Professor of Surgery in 1984, and was Head of the Division of Transplantation from 1994 to 2009. He founded and has been the Director of the UM Diabetes Institute for Immunology and Transplantation since 1994, and is holder of the Dobbs Diabetes Research Chair.
As a transplant surgeon, Dr. Sutherland has trained numerous surgeons heading organ and pancreatic transplant programs worldwide and has overseen more than 2,000 pancreas transplants at the UM. He performed the world's first clinical islet transplant in 1974 alongside his mentor Dr. John Najarian, and he developed minimally invasive beta cell replacement therapy as an alternative to insulin therapy on pancreas transplantation to treat diabetes. He also initiated preservation of beta cell mass by islet auto-transplantation at the time of total pancreatectomy for chronic pancreatitis in 1977, with nearly 435 such procedures completed to date. In 1980, Dr. Sutherland founded the International Pancreas Transplant Registry.
Dr. Sutherland has been of service for national and international organizations and societies, including serving as President of The Transplantation Society (2002-2004), the International Pancreas and Islet Transplant Association (1996-1997), the Cell Transplant Society (1994-1996), and the American Society of Transplant Surgeons (1990-1991). He has also served on the editorial boards of many journals, including Cell Transplantation, Diabetes, Transplantation, Transplantation Proceedings, and Pancreas. He has been Editor-in-Chief for Clinical Transplantation since January 2007.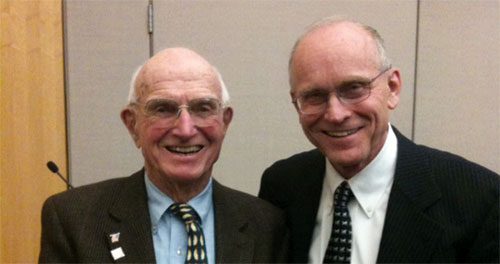 with Nobel Prize Winner, Joseph E. Murray
---
Principal Scientific Achievements
---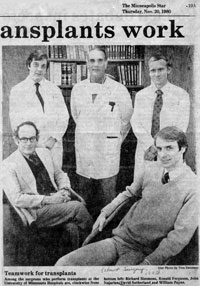 Clockwise from bottom left:
Richard Simmons, Ron Ferguson,
John Najarian, David E.R. Sutherland
and William Payne at the
University of Minnesota, 1980
Dr. Sutherland's principle scientific achievement is his role as the major force in the development of beta-cell-replacement (BCR) for the treatment of diabetes. In the early 1970s, he began work on islet transplantation to make BCR minimally invasive. He recognized the long-term challenges, and simultaneously refined techniques of pancreas transplantation to avoid problems that plagued earlier series. In the late 1970s, he resurrected clinical pancreas transplantation at the University of Minnesota, while persevering with islet research.
In 1977, Dr. Sutherland showed that islet autografts could preserve insulin-secretion after total-pancreatectomy for chronic pancreatitis, establishing a new treatment for the disease, now proved metabolically durable. The first successful series of single-donor islet allografts occurred under his direction. In 1980, he established the International Pancreas and Islet Transplant Registry, one of the most useful registries ever, publishing outcome analyses for nearly 30 years.
The unique contributions that Dr. Sutherland has made to pancreas transplantation include the first living-donor segmental-graft (1979), aiming not simply to solve organ shortage but to decrease the rejection rate in the pre-calcineurin-inhibitor era. He also first described isletitis with selective beta-cell destruction and recurrence of diabetes in pancreas isografts (identical-twin donors) and allografts (1984), a linchpin in establishing the disease as autoimmune. Finally, more than anyone in the field, he emphasized pancreas-transplant-alone (PTA) in nonuremic patients whose diabetes was more severe than the side-effects of immunosuppression, comprising a quarter of the first 1,000 cases at the UM, a series now greater than 2,000. The field would not have developed as it did without Dr. Sutherland's passion and numerous contributions.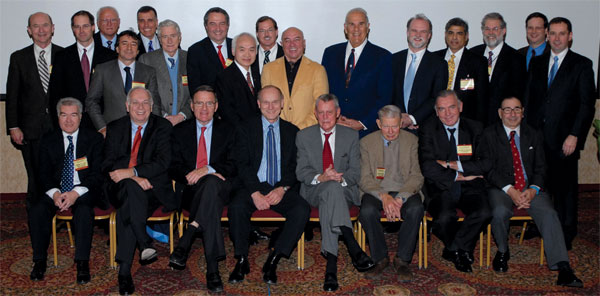 The "Pancreas Pioneers" -
Attendees of the 40th Anniversary of Pancreas Transplantation, hosted by David E.R. Sutherland