Welcome to the IPTA Website!
The International Pediatric Transplant Association (IPTA) is a professional organization of individuals in the field of pediatric transplantation. The purpose of the Association is to advance the science and practice of pediatric transplantation worldwide in order to improve the health of all children who require such treatment. The Association is dedicated to promoting technical and scientific advances in pediatric transplantation and to advocating for the rights of all children who need transplantation.
Click here to pay your Membership Dues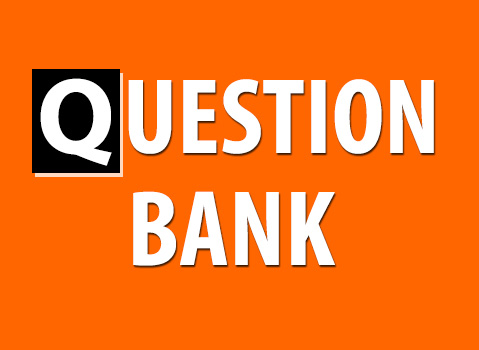 Quick Links
Member Journal Open Access
Apply for Membership
IPTA NEWSLETTER
MEMBERSHIP DIRECTORY
MULTIMEDIA LIBRARY
EVENTS CALENDAR

---

Pediatric Transplantation is the official journal of IPTA. At the link below, you will find a survey created by the IPTA Publication Committee and IPTA Leadership regarding the journal. We hope to continue to improve the services the journal provides to you, our members. This survey will help us identify areas to expand or improve. We promise it will not take more than a few minutes to fill out.
Click Here to Proceed to Survey
---

IPTA 2019 Recordings now available
Over 100 videos have been added to our library for our Members.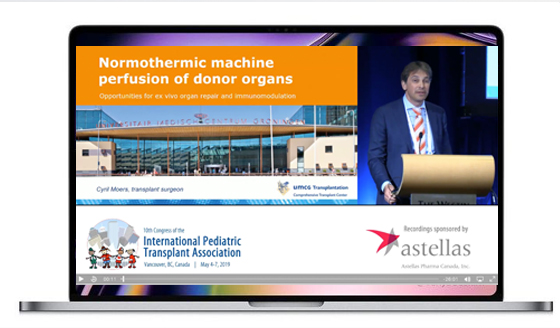 ---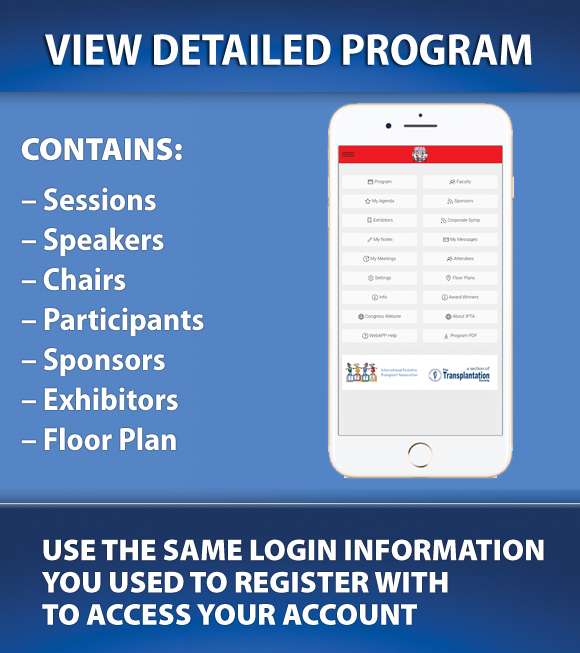 IPTA 2019 CONGRESS

Thank you for making it a success!
Dear IPTA Members and Congress Attendees,
Thank you to everyone who contributed to making the 2019 10th Congress of IPTA such a tremendous success in beautiful Vancouver!
We are pleased to share with you the highlights of the Congress:
522 participants from all over the world:

Asia – 5%
Europe – 20%
Latin America – 4%
Middle East/Africa – 4%
North America – 63%
Oceania – 3%

323 submitted abstracts from 24 countries
107 invited speakers from 19 countries
7 Plenary Symposium, 5 State-of-the Art Presentations, 3 Pre-Congress Symposia, 16 Interactive Workshops, 20 Oral Abstract Sessions, 3 Poster sessions and 3 Morning Industry Symposia
Abstracts were published in Pediatric Transplantation Journal
Certificates of Attendance will be emailed before May 28.
The recorded sessions from the Congress are now available to IPTA members and Congress attendees. We continue to look forward to sharing new Association activities with you via our quarterly member newsletter, the next edition will be available to members in September.
Looking forward to your collaboration and participation as we celebrate our 11th Congress in Prague April 17-20, 2021!
Sincerely,
Anne Dipchand, IPTA President
Mignon McCulloch, 2019 Congress Chair
Save the dates!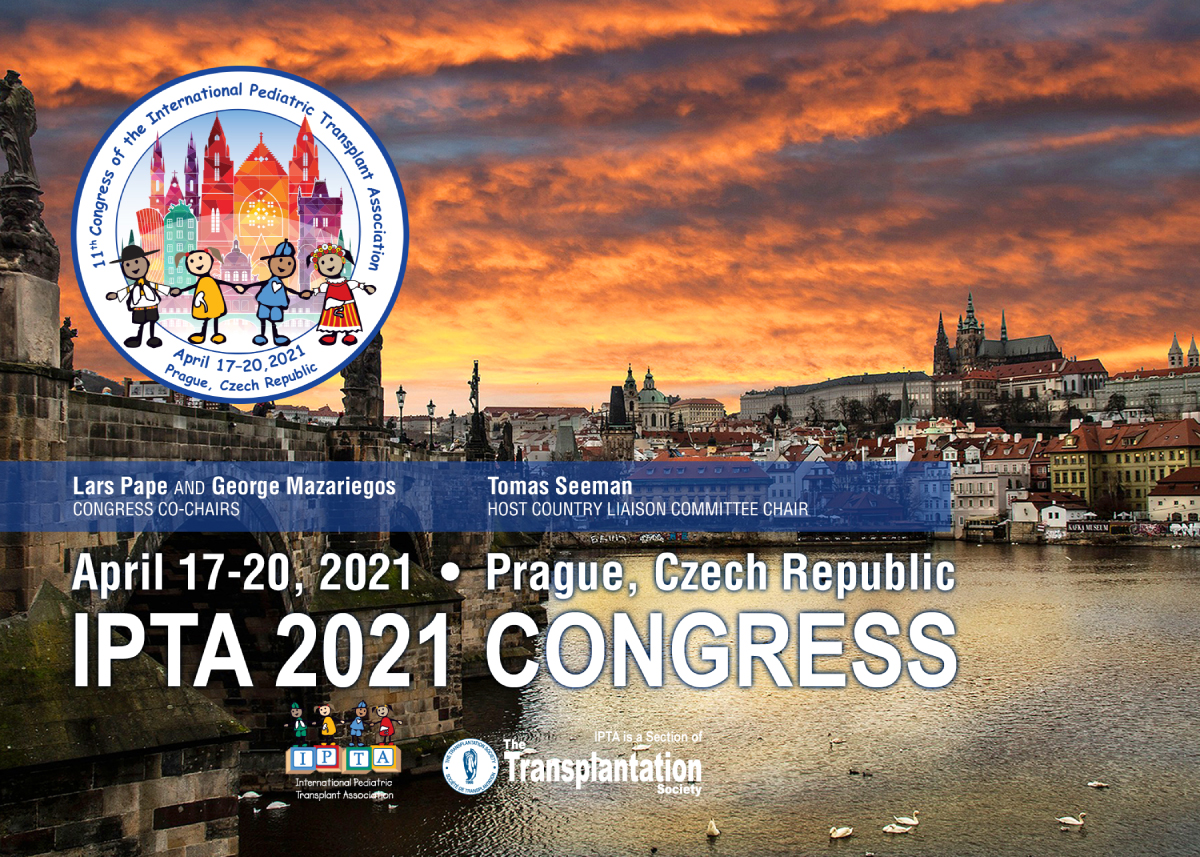 In Memoriam - Oscar Salvatierra, Jr., MD

Oscar Salvatierra, Jr., MD, passed away on March 16, 2019, after a long illness; he was 83 years old. He leaves behind his beloved wife, Pam, his two children Lisa and Mark, and 5 siblings. Oscar was an Active Emeritus Professor of Surgery and Pediatrics at the Stanford University School of Medicine. A urologist by training, he graduated from Georgetown University, the USC School of Medicine, and did his Urology training at USC and his Transplant training at UCSF. His career in transplantation was at UCSF, CPMC and at Stanford. He also served as a US Army surgeon in Vietnam.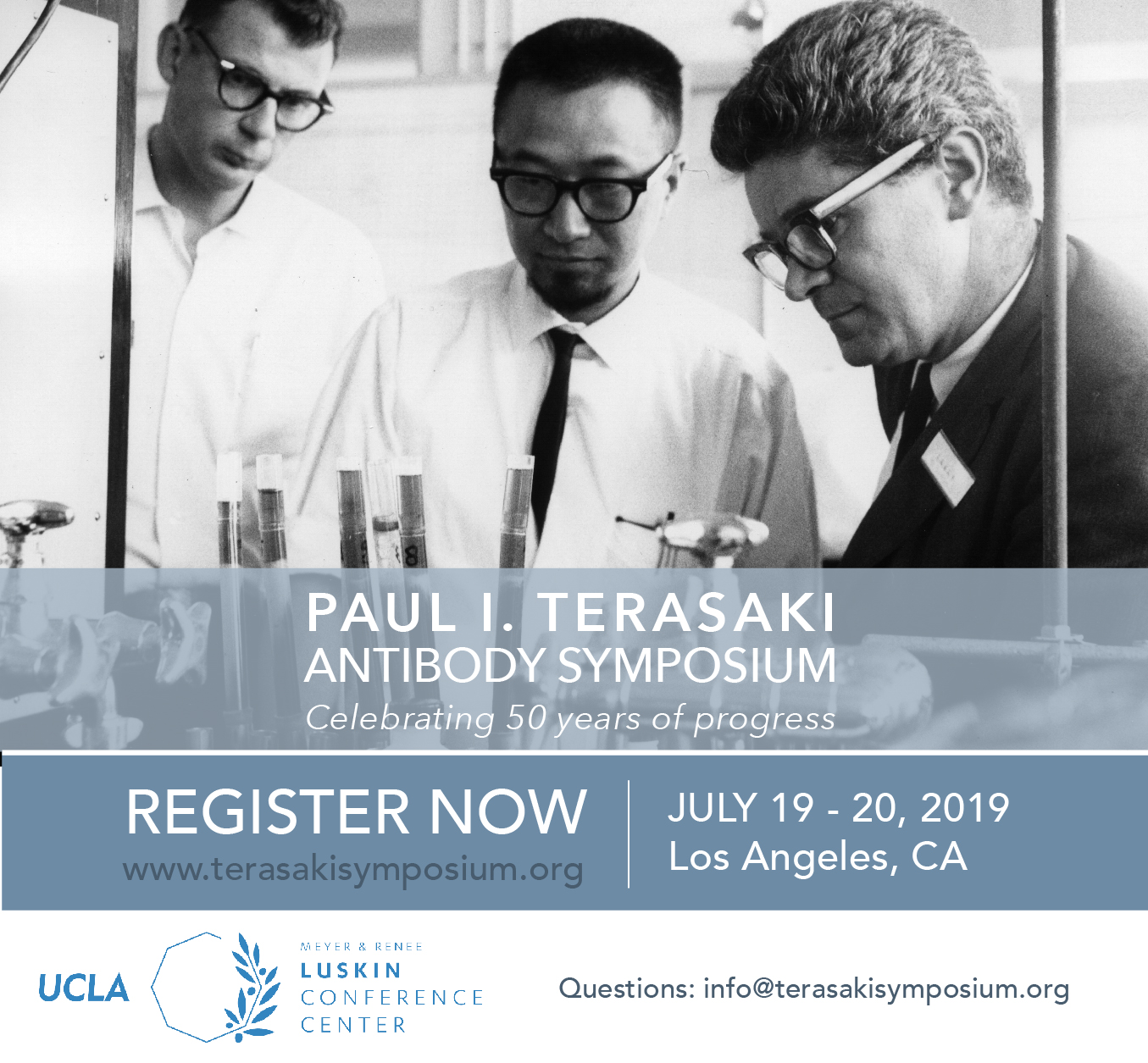 Paul I. Terasaki Antibody Symposium
UCLA LUSKIN CONFERENCE CENTER
July 19-20, 2019
The Paul I. Terasaki Antibody Symposium celebrates the 50th Anniversary of his landmark publication "Significance of the Positive Crossmatch Test in Kidney Transplantation", published in the NEJM in 1969. This transformative article led to substantial improvements in outcomes for solid organ transplant recipients and launched an entirely new discipline within clinical laboratory medicine.
---

The IPTA is pleased to announce the renewal of its Outreach Program, established to support centers that seek to develop new solid organ transplant programs or to expand or enhance the quality of care in existing programs. The success of the Outreach Programs is enabled by enthusiastic participation of sponsoring programs, who will partner with applicant centers and can provide knowledge, expertise and education.