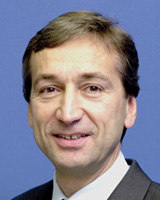 Dear IPTA members, colleagues and friends,
The IPTA Executive, Council and Committees are pleased to provide you with the third Newsletter this year for an update of our Association's activities. We will give you an overview on the projects and initiatives of the Allied Health Committee, Publication Committee, Membership Committee and Awards Committee with information on the newly introduced IPTA-TTS Congress Scientific Awards for trainees, allied health professionals and members from emerging countries. Most importantly, the IPTA 2017 Congress Chair Anne Dipchand will give an update on the upcoming 9th Congress of our Association in Barcelona, Spain, from May 27-30, 2017. The Scientific Committee has developed an exciting program that meets the needs of participants from across the world.
I look forward to seeing many of you at the upcoming IPTA Congress. Until then, feel free to reach out to me at any time with IPTA-related questions or comments. I always appreciate hearing from you.
Lastly, I would like to thank everyone for your engagement and support of the IPTA, wish everyone a relaxing and peaceful holiday season!
Yours sincerely,
Burkhard Tönshoff
IPTA President