Announcement: 2015 Transplant Nurses Day Essay Contest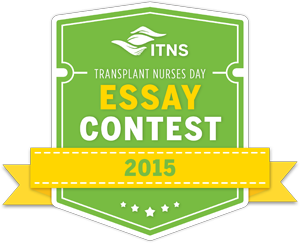 2015 Transplant Nurses Day Essay Contest
WHY I CELEBRATE MY TRANSPLANT NURSE
All nominations must be received by Friday, 13 March 2015.
As appreciation of this important day grows, ITNS is committed to creating more opportunities for nurses to celebrate their contributions. The Transplant Nurses Day Essay Contest allows patients to nominate an ITNS transplant nurse who has made a difference in their lives.