Science and Transplantation Expedition to Kyrgyzstan
President-Elect of The Transplantation Society, and Founder President of Baskent University, Prof. Mehmet Haberal, travelled to Bishkek, the capital of Kyrgyzstan, on June 17, 2018, for his latest science and transplantation activities expedition in the Turkic World. With a full program of meetings lined up, Prof. Haberal began by meeting with the Minister of Health, followed by meetings with the Chair of the Health Commission, various members of parliament, university rectors, and medical faculty staff and students.
Colleagues in Kyrgyzstan had been looking forward to Prof. Haberal's visit since some time, and he was greeted with great excitement and interest. Though only to last one day, the schedule was brimming with meetings with state officials, University rectors, professors, and medical students.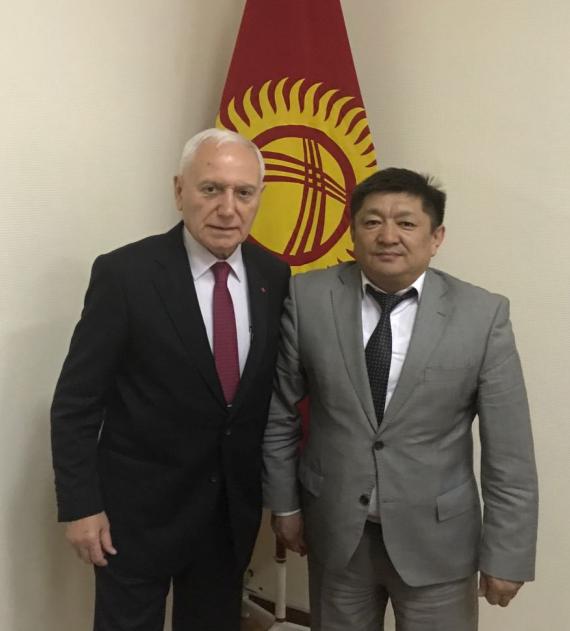 Prof. Haberal with Kyrgyz Health Minister Kososbek Sariyevic Colpanbayev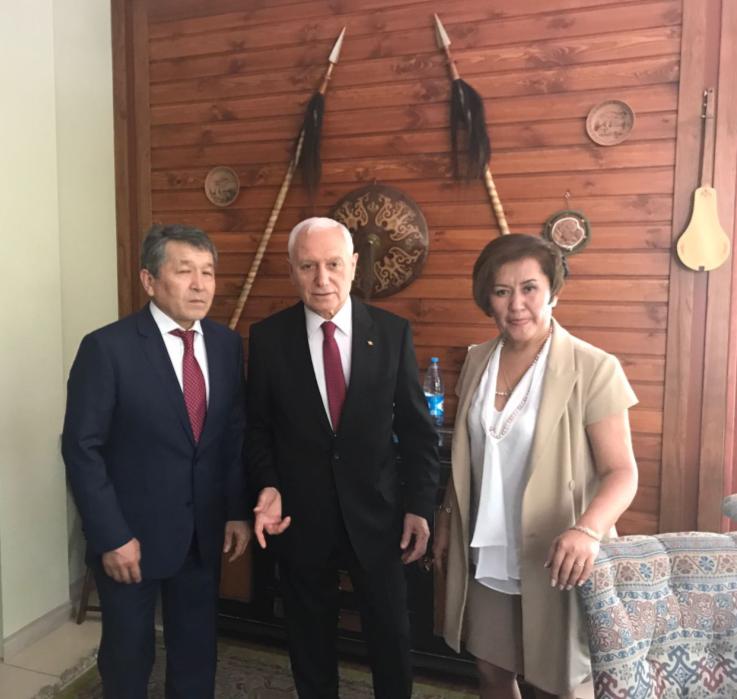 Prof. Mehmet Haberal with Turuspek Koenaliyev, the Director of the Republic of Kyrgyzstan Presidency and State Department, and Gulmira Musaevna. Chief Physician at the Presidency Hospital.
At his first meeting at the Kyrgyzstan Parliament, Prof. Haberal met with Health Minister Kososbek Sariyevic Colpanbayev, as well as the Chair of the Health Commission and several Members of Parliament. This was followed by a meeting with the Director of the Republic of Kyrgyzstan Presidency and State Department, Turuspek Koenaliyev, and the Chief Physician of the Presidency Hospital, Gulmira Musaevna.
Taking the opportunity to see the medical facilities in Bishkek, Prof. visited several hospitals, including the Urology Hospital, where he gave a conference to the doctors on the past, present, and future of transplantation in Turkey.

Prof. Haberal giving a lecture to the doctors at the Urology Hospital.
On the final day of his visit, Prof. Haberal visited the Asian Medical Institute in Bishkek and gave a conference to an international group of students who came from 16 different countries. Before his return to Ankara, Prof. Haberal also met with Dr. Raisa Atambayeva, the former First Lady of Kyrgyzstan, who had attended the 3rd TDTD Congress that was held in Ankara in November 2017.

Prof. Haberal giving a lecture to the final year medical students at the Asian Medical Institute
Since 1993, Prof. Haberal has been exploring avenues as to "how best to contribute towards the health and educational needs in Mid Asia." After several years of personal efforts, in 2014 he finally established the Turkic World Transplantation Society (TDTD), which has been highly active, both in terms of providing medical expertise to newly developed transplant centers, as well as educational and scientific collaborations in the form of congresses and fellowships.
Over the past years, Prof. Haberal and his team have travelled to several Mid Asian countries, including Kazakhstan, Azerbaijan and Uzbekistan, to fulfill these goals. In this latest expedition to Bishkek, Prof. Haberal gave detailed information on the transplantation process in Turkey and emphasized his desire to provide as much assistance and support as was necessary to develop an equally effective system in Kyrgyzstan as well.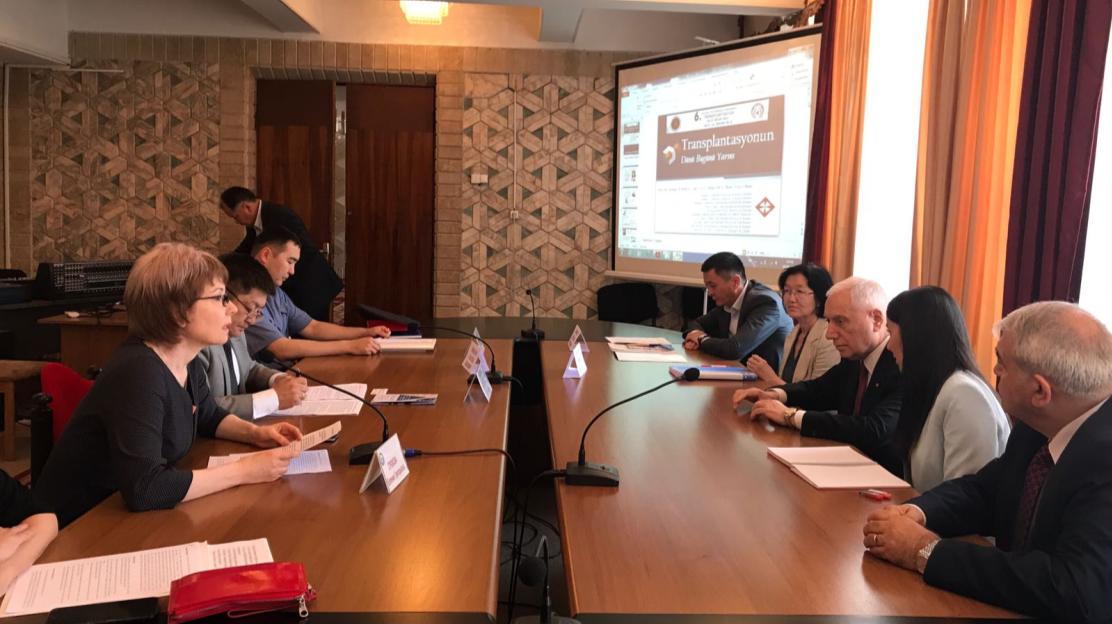 Prof. Haberal at a meeting with the Members of Parliament
On his return to Turkey, Prof. Haberal appraised his observations of Kyrgyzstan's current situation. Although much had been achieved there already, he explained that problems going forward were two-fold: firstly, the social security system was insufficient to care for patients with end-stage organ failure, and secondly, organ donation rates were not sufficient to meet the organ demand. Having taken the Turkish law on organ transplantation, which he himself had formulated in 1979, he used it to guide them through the necessary steps to strengthen the foundations of their burgeoning transplantation system, both surgically and ethically, as he had done in Turkey more than 40 years earlier. In working towards these goals, political and religious leaders as well as the media will play a very important role, and should collaborate with one another in this process.