TTS 2018 Recognition Awards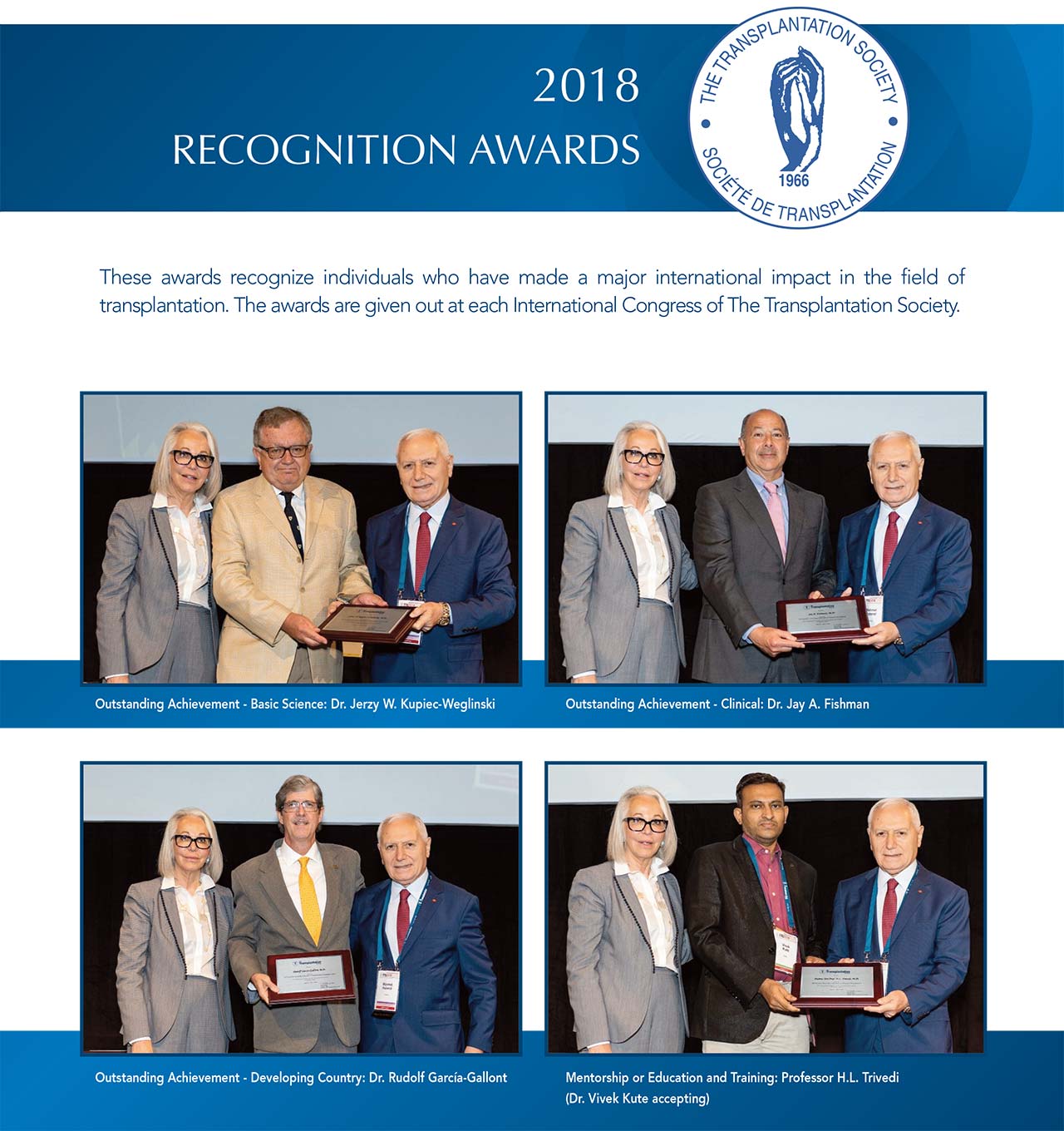 During research career in experimental organ transplantation spanning four decades, first at Harvard and then UCLA, Dr. Jerzy W. Kupiec-Weglinski published over 470 papers and book chapters in the areas of lymphocyte recirculation, immune tolerance, host sensitization and organ ischemia-reperfusion injury. His early work identified the mechanisms by which IL-2 receptor antibodies modulate the immune system, and paved the way towards the clinical development of these agents for the prophylaxis of rejection. His later work largely focused on solving one of the most vexing problems in transplantation, i.e., how to improve the quality and number of donor organs. His contributions to the field fall into two principal categories: 1/ the discovery of key biological pathways responsible for innate immune-driven stress response in the transplant and allo-immune mediated graft rejection; and 2/ the development of novel therapies that control these pathways. Dr. Kupiec-Weglinski's research for the past 30 years has been continuously funded by NIH. Currently, he serves as Director on Program Project Grant and Principal Investigator on three RO1s. Dr. Kupiec-Weglinski was a standing member of TTT Study Section at NIH; member, Board of Directors, American Society of Transplantation; and recipient of AST/Astellas Established Investigator Award. He holds the inaugural Paul I. Terasaki Endowed Chair in Surgery, David Geffen School of Medicine at UCLA.

Jay A. Fishman, M.D. is Professor of Medicine at Harvard Medical School, Director of the Transplant Infectious Diseases and Compromised Host Program at the Massachusetts General Hospital (MGH), and Associate Director of the MGH Transplant Center. Dr. Fishman completed medical school at Johns Hopkins University School of Medicine, internal medicine training and Infectious Disease Fellowship at MGH, and Fellowships in Molecular Biology and Genetics at MGH and Harvard Medical School. Dr. Fishman is a Fellow of the American College of Physicians, the American Society of Transplantation (AST), and the Infectious Disease Society of America. Dr. Fishman established the Transplant Infectious Disease Program of MGH to provide clinical care for recipients of solid organ and stem cell transplants. This unique program has trained many of the international leaders in the field. His laboratory investigates infections in xenotransplantation and viral pathogenesis in transplantation. Dr Fishman has over 300 publications. He has a special interest in molecular diagnostics and biotechnology and medical education. He is Past-President of the American Society of Transplantation. He is a frequent contributor at international symposia where he has shared his experience promoting worldwide transplant safety. He has received career achievement awards from AST and The Transplantation Society.

Born and raised in Guatemala, – a typical "developing country" – , still as a medical student, he rebelled against the fate of ESRD patients in his country who had no prospect of survival.
Having had the unique opportunity after his surgical residency to work with the late Prof. Rudolf Pichlmayr and with Prof. Hans G. Borst in Transplantation and Peripheral Vascular Surgery in Hannover, Germany, he was determined that, upon his return to his homeland, it would be his goal to make organ donation and transplantation possible, available and accessible for his fellow countrymen.
Since 1989 he has been involved in the creation of transplant legislation, education, the creation of the first large public dialysis facility, the initiation of adult and pediatric renal transplant programs at Guatemala's impoverished health system´s hospitals, and the first successful transplants from living and deceased donors. He has for thirty years met the typical obstacles of an underserved country and its authorities, but also found the unique opportunity to work with the most outstanding colleagues and nurses, some visionary authorities and wonderful solidary people, who have shared his dream and made it possible, to serve hundreds of suffering patients.
TTS, DICG and RCIDT have been instrumental in this endeavour, and continue being strong allies, and a platform to learn and exchange experiences with peers and masters in the field.

Prof. HL Trivedi is Pro-Chancellor of Gujarat University of Transplantation Sciences and Founding Director of Smt. G R Doshi and Smt. K M Mehta Institute of Kidney Diseases and Research Center and Dr. H L Trivedi Institute of Transplantation Sciences (IKDRC-ITS), Civil Hospital Campus, Asarwa, Ahmedabad 380016, Gujarat, India. It is the largest Institute of its kind in the world with 438 beds for care of kidney disease patients. Prof Trivedi and his team has completed more than 5200 kidney transplantations including more than 700 deceased donor kidney transplantations and 400 robotic kidney transplantations at IKDRC-ITS Ahmedabad. Prof HL Trivedi and his team has performed largest number of kidney transplants in India and at present doing more than 350 kidney transplantations including more than 100 deceased donor kidney transplantation every year. IKDRC-ITS Ahmedabad is the only public sector hospital of India doing liver transplants and completed more than 300 deceased donor liver transplantations. He has trained more than 200 Nephrologists in India.
Prof HL Trivedi is a Pioneer Nephrologist, Immunologist, Transplanter and Stem Cell Researcher of India with many patents on stem cells therapy for transplant tolerance and insulin making stem cells. Prof Trivedi is the founder of the Indian Journal of Transplantation, Indian Journal of Nephrology, and Indian Society of Organ Transplantation which has played a pivotal role in development of transplantation as a science in the country. Recognizing his contribution towards development of nephrology and transplantation, he was awarded with HONORIS CAUSA (Doctor of Science) by Chhatrapati Shahuji University of Lucknow in 2009.
Prof HL Trivedi was awarded with Padma Shri for his distinguished service in kidney transplantation in India for poor patients – one of the highest civilian honours of India.