TTS 2018 Women in Transplantation Awards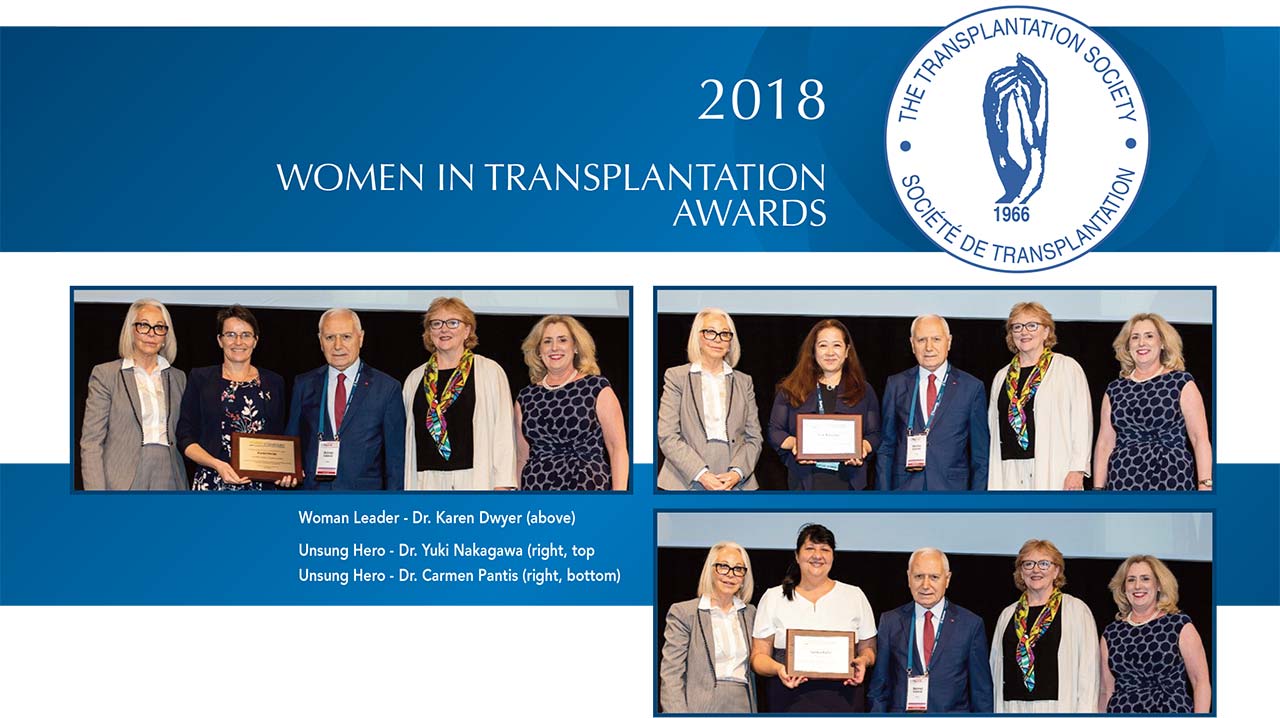 Dr. Karen Dwyer is a medical graduate from The University of Melbourne. She completed her training in nephrology at St.Vincent's Hospital in Melbourne before completing her PhD under the supervision of Prof. Tony d'Apice. Dr. Dwyer completed post doc studies under the supervision of Prof. Terry Strom and Prof. Simon Robson in Boston. From 2006 until 2015, she was based at St. Vincent's Hospital Melbourne, including as co-director of the Immunology Research Centre from 2011. During that time she supervised a number of PhD students, mostly nephrology trainees and mostly women. In 2015, Dr. Dwyer was appointed Prof. of Medicine and Deputy Head, School of Medicine at Deakin University, Victoria.
Dr. Dwyer was elected to the Transplantation Society of Australia and New Zealand (TSANZ) Council in 2013. She served for 6 years including as secretary from 2015. During this time, Dr. Dwyer introduced a plenary lecture on gender equity into the Annual Scientific Meeting, which has since been formalised as the annual Josette Eris Memorial Lecture; secured the Josette Eris Award which is awarded every 2nd year to an outstanding female early career member of the TSANZ; proposed a constitutional change to include gender representation on council. It should be noted that even without ratification of the constitutional change (due for voting in 2019), the current TSANZ council is represented 50:50 by men and women.
Dr. Dwyer­­ has a received a number of awards including the Basic Science Mentor/Mentee Award The Transplantation Society twice; Ian McKenzie Prize for Outstanding Contribution to Transplantation; and Key Opinion Leader, The Transplantation Society.

Dr. Yuki Nakagawa is an Associate Professor at Division of Urology Department of Regenerative and Transplant Medicine, Graduate School of Medical and Dental Sciences at Niigata University. She is also a vice chairman of the Women in Japan Urological Association and a member of the committee for women. Presently, she serves of the Editorial Board for Japan Clinical Transplantation.
She graduated from Tokyo Women's Medical University in 1991 and completed her training at Tokyo Women's Medical University in Transplant Surgery. In 1995 she became board certified in General Surgery and Urology. She has been a staff surgeon at Division of Kidney Transplantation and Urology in the Department of Regenerative and Transplant Medicine at Niigata University Hospital since 1996.
Dr. Nakagawa has been involved in more than 1000 kidney transplant cases and clinical research especially in the field of ABO incompatible kidney transplantation and has participated in many clinical trials. She has published many articles in local and international scientific journals and actively participates in international congresses. She won the price for the 2014 Scientific Award from the Ministry of Education in Japan because of her enthusiastic campaign for promoting deceased organ donation in Japan. Furthermore, she is an active role model for female urologists as well as kidney transplant surgeons and contributes greatly to the Japanese Transplantation Society and Urological Association.

Dr. Carmen Pantis was born in Bihor County, Romania, in 1964. She studied at the University of Medicine and Pharmacy Iuliu Hatieganu in Cluj-Napoca in 1988. She was certified as an ICU doctor in 2009, one year after she was certified as a transplant coordinator. Dr. Pantis also holds a competence in emergency medicine, which she acquired in 1997. By the year 2007, she also managed to complete a doctorate in the field of pharmacology, further elevating her level of competence and knowledge in the field of emergency care and transplant medicine.
The main center of her activity revolves around the Clinical Emergency County Hospital in Oradea, Romania, and the Faculty of Medicine and Pharmacy within the University of Oradea. Dr. Pantis has been the Regional Transplant Coordinator in Romania since August 2016. She has participated as a speaker in a variety of workshops relating to the topic of transplantation such as the one in Ohrid, Macedonia in 2012 and GLS San Diego in the same year. Additionally, she has held the position of President of the Bihor Medical College since December 2011 and is also a lecturer in the field of Surgery and ICU at the Faculty of Medicine and Pharmacy in Oradea.
Additionally, Dr. Pantis has well over 100 significant written and oral contributions to medical papers and medical conferences in a large variety of domains including pharmacology, surgery, transplant medicine and ICU care.