TTS 2018 Mentee – Mentor Awards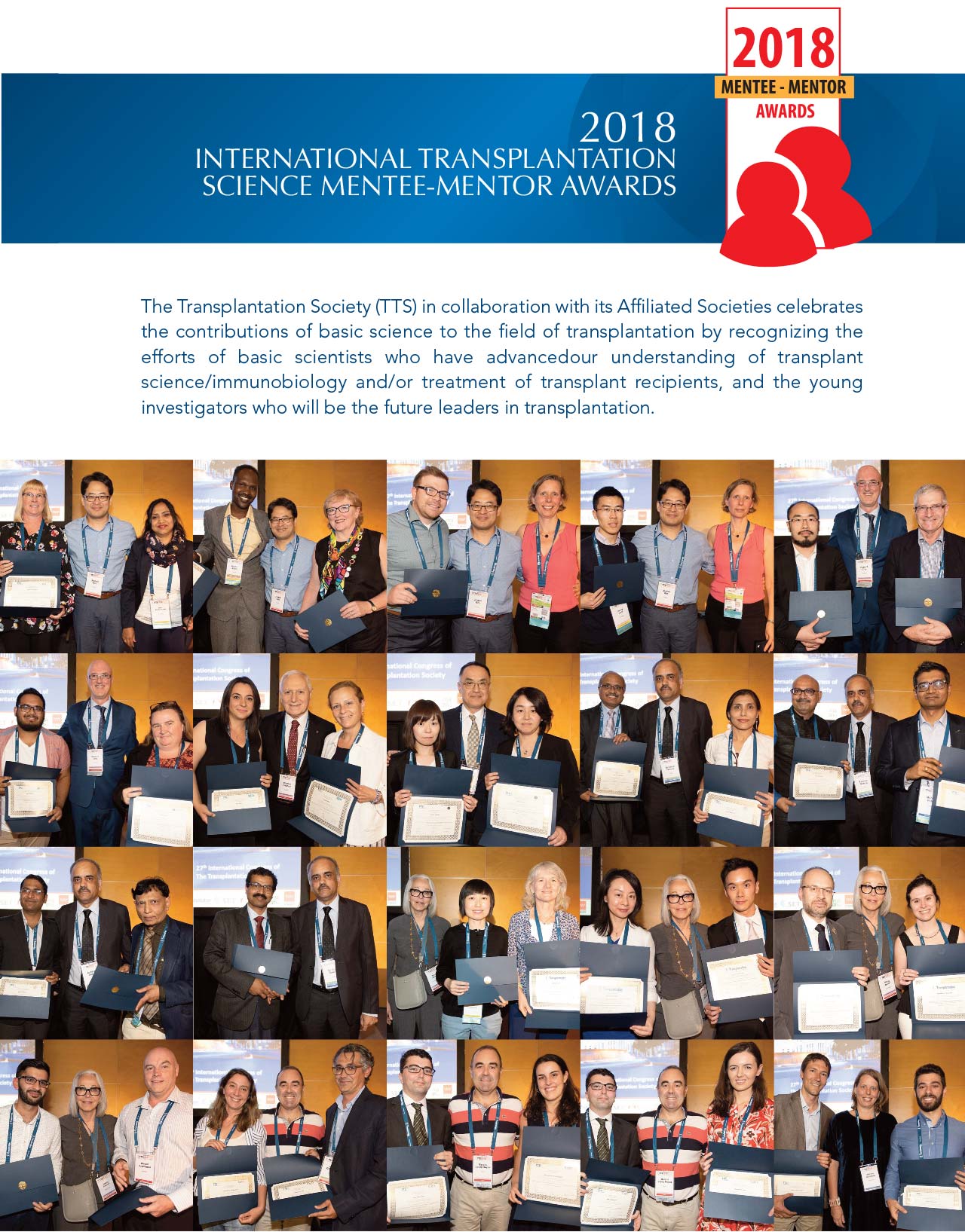 Mr. Ibrahim Adam received a Mentee-Mentor award for his work in antibody response to A-antigen in the setting of syngeneic, allogeneic, and xenogeneic stimulation. Mentored by Dr. Lori J. West, her work is investigating the cells and molecules participating in immunity and tolerance in the setting of ABO-incompatible heart transplantation (ABOi-HTx). This work is aimed to expand donor pool and immune tolerance that currently is limited to infants and young children.Understanding how ABO-mismatched heart transplants are accepted or tolerated will allow strategies to be developed to extend the ABOi-HTx beyond infancy, thus having an impact on the health of many patients with end-stage heart disease. Our overall goal is to define the processes by which the immune system changes after transplant allowing acceptance of ABO-mismatched hearts, rather than rejection.
Mr. Adam received a BSc in Medical Lab. Sciences and an MSc in Genetics and Molecular Biology, from the University of Khartoum in Sudan. He has worked as a Medical Lab Technologist in Sudan and in the National Health Laboratory, Khartoum, Sudan. He has also worked with Doctors without Borders/Medecins Sans Frontieres (www.MSF.org) in South Sudan. Mr. Adam is currently a PhD candidate in Immunology at the Dept. of Medical Microbiology and Immunology at the University of Alberta. His future interest is to work in a diagnostic laboratory in the field of transplantation immunology.


Avery Lam received a Mentee-Mentor Award with Dr. Megan Levings for his work on tissue-reparative human regulatory T cells (Tregs). He found that human Tregs in blood and multiple tissue types produced the tissue-repair factor amphiregulin, but that this was neither a unique feature of Tregs nor selectively upregulated in tissues. Furthermore, the IL-33/ST2 pathway did not control amphiregulin expression in human Tregs, in contrast to findings in mice. Engineered ST2+ Tregs may promote tissue repair innately, and future work aims to better understand and harness this function in the context of cell therapy.
Avery is a Ph.D. candidate in Experimental Medicine at the University of British Columbia. He received his B.Arts Sc. in the Arts & Science Program with Biochemistry at McMaster University in 2015. In Dr. Levings' lab, his thesis work focuses on defining the signaling pathways governing human Treg stability and function. During his undergraduate degree, he worked in cancer therapeutics and immunotherapy with Drs. David Spaner (University of Toronto) and Brian Lichty (McMaster University).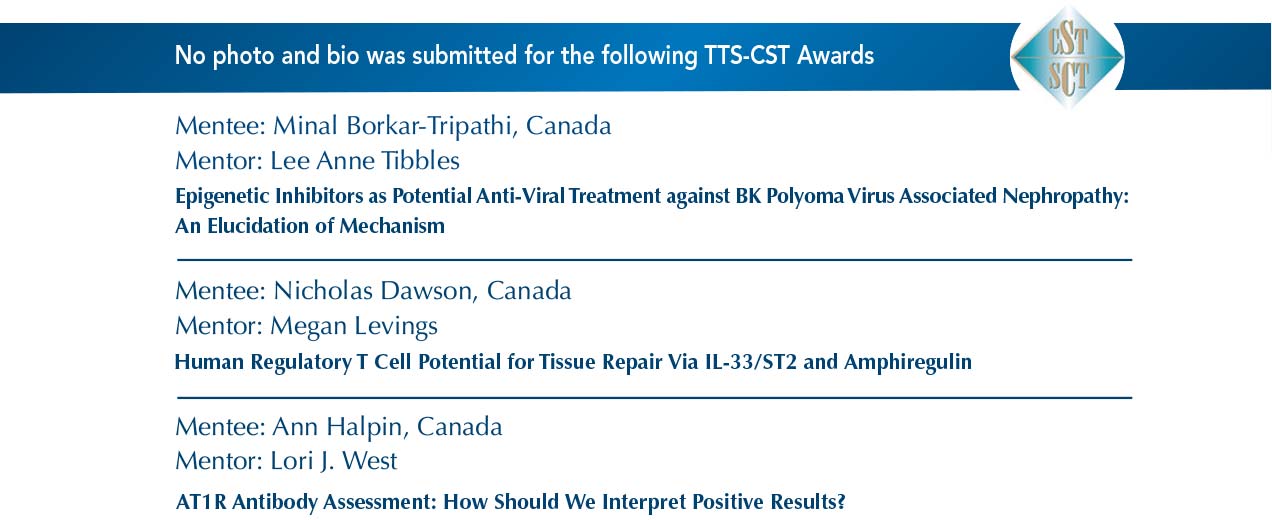 Dr. Manish Ramesh Balwani received a Mentee-Mentor award for his work on "Knowledge Regarding Brain Death and Organ Donation Laws Among Medical Students". Mentored by Prof. Pankaj Shah, this work evaluates the knowledge among medical students regarding organ donation & its laws. It was found that there was enough scope to improve the understanding among medical students regarding early identification of brain death. Better knowledge and awareness about organ donation laws will help in early identification of cadaver which will increase cadaver donation indirectly. A thorough topic should be covered in MBBS syllabus with in hand practical involvement of students while carrying out organ donation and allocation activities. This will help in removing fears and hesitancy among medical fraternity regarding organ donation.
Dr. Manish Balwani received his MD in Internal Medicine from SMS Medical College, Jaipur, India and later completed his DM Nephrology speciality training under the guidance of Prof. H L Trivedi & Prof. Pankaj Shah from IKDRC-ITS, B. J. Medical College, Gujarat University, Ahmedabad, India. He is currently a Consultant Nephrologist & Transplant Physician at Jawaharlal Nehru Medical college, Sawangi, India & also has Nephrology Clinic at Saraswati Kidney Care Center, Nagpur, India. His research interests include the preventive nephrology, organ transplantation policies, post renal transplant drug therapeutics monitoring & post transplant hemolytic uremic syndrome evaluation.

Dr. Sonia Mehrotra received Mentee-Mentor Award for the study on Pharmaco-dynamics of CSA and Tacrolimus and its Effect on Antiviral Drugs in HCV Positive Kidney Transplant Recipients with Dr Raj Kumar Sharma as mentor.The aims of this pilot study were to assess the effect of interferon free sofosbuvir and ribavirin combination regimen used to treat chronic hepatitis C viral (HCV) infection in kidney transplant recipients on pharmacokinetics of calcineurin inhibitor (CNI ) drugs. Direct acting antiviral drugs can affect drug levels of CNIs by increasing their clearance. Pharmacokinetics of CNI drugs need to be studied while transplant patients are on Sofosbuvir to see effect on AUC as decreased exposure to immunosuppression can precipitate rejection. With sofosbuvir therapy and viral clearance, there was reduction in CNI levels due to increased clearance of the CNI drugs, which is shown by the AUC measurements. This could be important for patients at high risk for rejection.
Dr. Mehrotra is Lab-in-Charge of Renal Transplant Lab at department of Nephrology Sanjay Gandhi Post Graduate Institute of Medical Sciences India. Her PhD topic was on "Vitamin D metabolism in chronic kidney disease patients undergoing renal transplantation and its effect on post-transplant outcomes". She was awarded the International Society of Nephrology (ISN), ANIO Advanced Apprenticeship in 2015 on histocompatibility and immunogenetics. She received The Transplantation Society (TTS) Transplantation Science Mentee Mentor Award in 2016. Dr. Mehrotra has authored or co-authored over 15 research publications, and co-authored in four different book chapters.
Dr. Mehrotra is an active member of The Transplantation Society (TTS), American Society of Histocompatibility and Immunogenetics (ASHI), and the Indian Society of Organ Transplantation (ISOT).

Dr. Mohan Puna Patel received a Mentee-Mentor award for his work on "Prediction of Tacrolimus Drug Dosing and Metabolism based on CYP3A5 polymorphism in Indian renal transplant recipients". Mentored by Prof. Manoj Gumber, this work assesses the impact of CYP3A5 polymorphism on dose requirements & metabolism of tacrolimus in renal transplant recipients. The study found that polymorphism does influence pharmacokinetics of tacrolimus significantly. Author recommends pre-transplant CYP3A5 genotype analysis to be done for better individualization of tacrolimus dosing and also helps in avoiding drug toxicity related allograft dysfunction in post-transplant period. Future long term studies are planned to demonstrate epidemiological status of CYP3A5 polymorphism and also help to optimize tacrolimus dosing.
Dr. Mohan Patel got his MD in Internal Medicine from Govt. Medical College, Nagpur and subsequently completed his super-specialty training, DM Nephrology under the guidance of Prof. Dr. H L Trivedi & Prof. Manoj Gumber from IKDRC-ITS, B. J. Medical College, Gujarat University, Ahmedabad, India. He is currently working as Consultant Nephrologist & Transplant Physician with Apollo Hospitals, Nashik, India. His research interests include post transplant drug level monitoring, developing cadaveric kidney transplantation and studying post transplant infections.


Asuka Tanaka received a Mentor-Mentee award for her work entitled "Donor conditioning with recipient-derived PD-L1/PD-L2-expressing B cells prevents lethal acute GVHD in a fully allogeneic mouse model". She investigated the immune-regulatory roles of B cells as regulatory antigen-presenting cells targeting allo-reactive T cells. Her laboratory reported that MHC classⅡ+CD80+CD86+PD-L1+PD-L2+ B cell subclass are exclusively part of the CD5+ B-1a cells that are located in the peritoneal cavity. These PD-L1/PD-L2 B-1a cells expressed surface molecules necessary for efficient Ag-presentation to T cells together with the apoptosis-inducing ligand, potentially imparting their tolerogenic potential upon alloantigen recognition of T cells. In this study, she focused the mechanisms of immune-tolerance induced by these unique B cells in murine allogenic bone marrow transplantation.
Dr. Tanaka received her M.D. from the Tottori University, and she has gained clinical experience as a transplant surgeon. She is now a Ph.D. student in Gastroenterological and Transplant Surgery, Hiroshima University, Japan. Under Dr. Hideki Ohdan and Dr. Yuka Tanaka's mentorship, Dr. Tanaka's research is aimed at inducing immune tolerance by those immune-regulatory B cells targeting allloreactive T cells in allo -transplantation.

Jesus M. Sierra Parraga received a Mentor-Mentee award for his work studying the mechanisms behind the immunoregulatory properties of mesenchymal stem cells. Mentored by Martin J. Hoogduijn, his work examined the immunological mechanisms determining the fate of infused MSC and the immunomodulatory response associated with it. Recognition of MSC by the innate immune system induced phenotypical and functional changes in monocytes, which subsequently modulated cells of the adaptive immune system. It was found that monocytes play a crucial role in mediating, distributing and transferring the immunomodulatory effect of MSC.
Mr. Sierra Parraga completed his bachelor in Biotechnology from the Polytechnic University of Valencia (Spain) and got his Master´s degree in Translational Biomedical Research from Cordoba University (Spain). He is currently a PhD student at the Internal Medicine department of the Erasmus Medical Center in Rotterdam (The Netherlands). Under the supervision of Dr. Martin Hoogduijn, his research is focused on the therapeutic effect of MSC and how these cells interact with the host cells to understand the underlying mechanisms of MSC therapeutic effect and to improve outcome of MSC therapy.

María García-Conde received a Mentee-Mentor Award for her work related to liver transplantation from donation after circulatory death type IIA (DCD IIA), mentored by Dr. Iago Justo. This work focuses on the DCD IIA liver transplantation programme initiated in University Hospital 12 de Octubre over 10 years ago, evaluating the changes implemented in both candidate selection and donor maintenance optimisation over time, and how these modifications impact liver transplant results. Risk factors related to decreased patient survival are also evaluated, with the intention to approach an ideal DCD IIA graft-recipient allocationand minimise complications.
Ms. García-Conde got her MD in medicine from Complutense University in Madrid (Spain), completed her Surgery residence at University Hospital 12 de Octubre and is currently preparing to obtain her PhD on medical-surgical science fromComplutense University. Her research is focused on high risk liver grafts and the underlying mechanisms behind the complications associated with donation after circulatory death.


Selin Akad received a Mentee-Mentor Award for her work entitled "Impact of MMP2, MMP9 and TIMP2 Gene Polymorphisms on Allograft Rejection in Pediatric Renal Transplant Recipients''. Prof.Dr. Feride Sahin from Baskent University Faculty of Medicine Department of Medical Genetics mentored Selin Akad during her work. Selin Akad's project was about the understanding of the effects of Matrix Metalloproteinase (MMP) genes on allograft rejection in pediatric renal transplant recipients. For this purpose, she analyzed the functional polymorphisms of MMP2, MMP9, and TIMP2 genes which effect their expression, and tried to establish an association between any one of the polymorphism and allograft rejection. This was a retrospective, single-center, cross-sectional study on pediatric renal transplant patients. A total of 68 kidney transplant recipients and 58 controls were enrolled in the study. As a result, they found a statistically significant difference between the allele frequencies of the functional polymorphisms of MMP2, MMP9, and TIMP2 genes in the pediatric renal transplant and control patients as well as in allograft rejection and non-rejection patients. According to their results, they suggest that MMPs and their tissue inhibitors may be important predictive biomarkers for monitoring renal transplant recipients.
Ms. Selin Akad completed her Master of Science Degree at Baskent University Faculty of Medicine, Department of Medical Genetics. She is currently a Ph.D. student at Baskent University Faculty of Medicine, Department of Medical Genetics. She interested in genetic mechanisms of diseases as study area. As molecular mechanisms underlying allograft rejection are important during clinical management and follow up of patients, Selin is interested in transplantation studies in order to elucidate these mechanisms.

Sam Adhikary received a Mentee-Mentor Award for his work investigating the effect of post-transplant cyclophosphamide (PTCy) treatment on the development of graft-versus-host disease (GVHD) in a humanised mouse model. Under supervision of Dr. Debbie Watson and Associate Professor Ronald Sluyter at the Illawarra Health and Medical Research Institute (IHMRI), University of Wollongong (UOW), Australia, immunodeficient mice were injected (i.p.) with human immune cells to induce GVHD and subsequently injected with 33mg/kg PTCy or saline. Mr. Adhikary found that PTCy significantly reduced the reduction of GVHD in humanised mice, with PTCy-injected mice demonstrating reduced weight loss and GVHD clinical score, and increased overall survival compared to saline-injected mice. PTCy-injected mice also demonstrated an increased hCD4+:hCD8+ T cell ratio and a reduction in the relative hIL-17 expression in the small intestine, an important cytokine in GVHD development. Whilst PTCy did not completely prevent GVHD, these findings will allow further study in combinational therapy alongside PTCy to prevent GVHD long-term in this model.
Mr. Adhikary graduated with a Bachelor of Medical Biotechnology (Advanced) (Hons. Class 1) from UOW and is currently a 3rd-year PhD candidate at UOW and IHMRI under Dr. Watson and Associate Professor Sluyter focussing on identifying therapeutic strategies against GVHD. His research interests include identifying genetic biomarkers to predict GVHD and understanding the role of different immune cells in GVHD progression.

Dr. Hong Chee Chew received a Mentee-Mentor Award for his work in Clinical DCD Heart Transplantation under the mentorship of Professor Peter Macdonald and A/Prof Kumud Dhital at St Vincent's Hospital, Sydney. Their pre-clinical work using porcine model has led to the world's first distant procurement DCD heart transplantation that was performed in July 2014 in Sydney, Australia. The heart transplant unit has since performed 27 successful DCD heart transplants. The unit pioneered the direct procurement protocol for DCD hearts and the use of normothermic machine perfusion for the assessment and recovery of these hearts.
Dr. Chew received his Masters in Surgery from the University of Sydney. He is currently a PhD candidate at the University of New South Wales, Sydney; and is a cardiothoracic registrar at St Vincent's Hospital, Sydney. His research focus is on cardiac organ protection strategies including pharmacological and machine technology with the aim to popularise the use of DCD hearts, as well as the development of better assessment tools for the safe utilisation of these organs.

Dr. Jianing Fu was granted an International Transplantation Science Mentee-Mentor Award for her research paper, "Role of Graft-derived Graft-versus-Host T cells in Facilitating Multilineage Blood Chimerism after Human Intestinal Transplantation". Mixed lymphocyte reaction and high throughput TCRβ CDR3 DNA sequencing were used to identify alloreactive T cell clones, and they were further tracked in blood, allograft and bone marrow post-transplant. The data demonstrated that donor GvH-reactive T cells expanding within the graft in response to recipient antigen-presenting cells entering the graft migrate into the recipient circulation and bone marrow, playing a key role in promoting and maintaining mixed chimerism.
Dr. Fu received her BS and MS on Pharmaceutical Sciences and Chemical Biology from Peking University in China, and PhD on Cancer Biology and Immunology from University of South Florida and H. Lee Moffitt Cancer Center. She is now an Associate Research Scientist at the Columbia Center for Translational Immunology at Columbia University. Under Dr. Megan Sykes's mentorship, Dr. Fu's research is aimed at decoding the bidirectional alloreactivity after intestinal transplantation and investigating the phenotype and function of gut hematopoietic stem cells and progenitors, with the ultimate goal of eliminating graft rejection by inducing long persistent blood mixed chimerism.

Ahmer Hameed received a Mentee-Mentor award for his work comparing deceased donor liver transplantation outcomes after livers were retrieved using cold in situ perfusion of the donor via the aorta alone, or the aorta and portal vein ("dual" perfusion). A national (Australian) cohort was included over a ten year period. In 'standard' criteria donors it was found that overall recipient and graft survival did not significantly differ despite the technique used. However, in a subgroup of patients where livers from higher risk donors were utilized, dual perfusion appeared to provide a significant survival advantage.
Dr Hameed received his medical degree from the University of New South Wales (Australia). He temporarily interrupted his surgical training to undertake a PhD at the University of Sydney under the guidance of Professor Wayne Hawthorne, Professor Henry Pleass, and A/Professor Natasha Rogers, and is currently in the final year of the PhD. The primary focus of his research is the investigation, optimization, and implementation of normothermic machine perfusion prior to kidney transplantation, with a secondary focus on in situ retrieval practices and their subsequent outcomes.

Dr. Melisa Pucci Molineris received a Mentee-Mentor award for her work about acute cellular rejection (ACR) in intestinal transplantation. Mentored by Dr. Gabriel E. Gondolesi, this work evaluates the cellular targets of apoptosis during an ACR event after intestinal transplantation. Although crypt epithelial cell apoptosis is used as histopathological criteria for ACR diagnosis, it was not clear which of epithelial lineages are the target of ACR. Particularly, this research studies integrity and functionality of Paneth and stem cells during different degrees of ACR, in comparison with other clinical conditions such as graft vs. host disease (GVHD) and ischemia reperfusion injury (IRI) that have defined targets.
Dr. Pucci Molineris received her PhD from the Universidad de Buenos Aires in Argentina and this research formed part of her PhD thesis. She is currently a post-doctoral research associate at the Instituto de Investigaciones Bioquímicas de La Plata (INIBIOLP) at the Universidad Nacional de La Plata and works on bacterial urinary tract infections in pregnant women.

Dr. Elisa Montanari received a Mentee-Mentor award for her work about the beneficial effects of human Mesenchymal Stromal Cells (MSC) on porcine hepatocytes. Mentored by Prof. Leo Buhler, this work optimizes and standardizes a protocol for porcine hepatocyte isolation from 10-kilo pigs. To increase pig hepatocyte viability after encapsulation, a novel alginate-PEG-SH grafted hydrogel compared to commercial alginate hydrogel was adopted for hepatocyte encapsulation. This work demonstrated that viability, albumin secretion and diazepam metabolism capacities were maintained in free and alginate-PEG-SH encapsulated hepatocytes. Further, pig hepatocytes co-encapsulated and co-cultured with human MSC showed improved viability and albumin secretion, suggesting that MSC provide a supportive environment.
Dr. Montanari obtained her PhD from the University of Geneva. She is currently a post-doctoral research associate in the Laboratory of Surgical Investigations at the University of Geneva. Her research focuses on optimizing protocols for encapsulation of pig hepatocytes and neonatal porcine islets using newly developed hydrogels, with the aim to establish preclinical studies of pig to human xenotransplantation for the treatment of diabetes and liver diseases.

Dr. Yeung received Mentee-Mentor Award for his study on the significances of M2 macrophages in post-transplant recurrence in hepatocellular carcinoma. Mentored by Prof. Kwan Man, this work identified that liver graft injuries induced the accumulation of M2 macrophages expressed with ΔPD-1. In return, such unique population exhibited increased tumor promoting activities which contributed to poor relapse free survival and tumor recurrence in patients who received liver transplantation. Future studies are planned to target ΔPD-1 M2 macrophages for attenuating the post-operative tumor recurrence incidents and improving clinical outcomes.
Dr. Yeung obtained his bachelor's and master's degree in the University of Birmingham and University of Bath, UK. Afterwards, he pursued his PhD in Prof. Man's laboratory in Department of Surgery, the University of Hong Kong, studying the tumor promoting macrophages in liver cancer. Currently, Dr. Yeung is a post-doctoral fellow under the supervision of Prof. Man and his major research focuses on understanding the roles of macrophages in liver transplantation and cancer for improving diagnostic and therapeutic strategies. In 2016, he received the young investigator award in the same conference. Recently, he also received the rising star and young investigator awards in two conferences International Liver Transplantation Society (ILTS) Annual Congress and Hong Kong Society for Immunology Annual Meeting 2018 on his work on the activation mechanisms of macrophages in transplantation and cancer.