TTS 2018 Challenging Cases Awards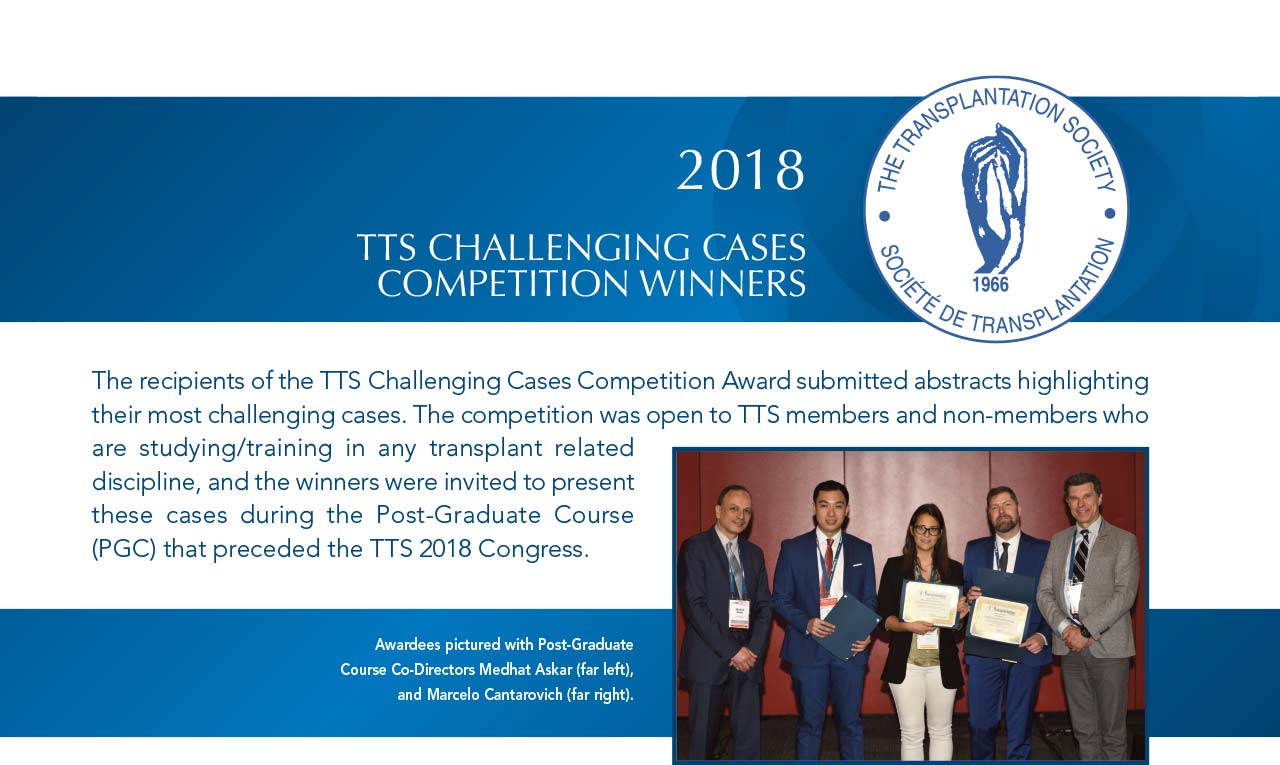 Marina Pérez-Flecha won the Challenging Case Competition for her work on Multivisceral Transplantation immunosuppression. Marina completed her work under the mentorship of Dr. Óscar Caso, Dr Jorge Calvo and Dr Carlos Jiménez, members of the Hepato-Biliary-Pancreatic Surgery and Abdominal Organs Transplantation Unit at the Hospital "12 de Octubre" in Madrid (Spain). The clinical case demonstrated the complex management of immunosuppression in this technically demanding transplants and highlights the various factors involved and therefore the need of a multidisciplinary team and a tailored approach in each patient.
Marina Pérez-Flecha obtained her MD in Medicine in the Complutense University of Madrid and her Surgical residence at the University Hospital "12 de Octubre" in Madrid (Spain). She has attended and participated in many national and international congresses related to Abdominal Organs Transplantation and is at this time developing her PhD concerning Liver Donor Steatosis and studying transplant results depending on the steatosis degree and other possible risk factors.

Bryan Christian Gaza Ilagan won the Challenging Case Competition for his work with a case involving a 50 year old female Filipino admitted in 2017 due to dyspnea following a post-kidney transplantation in 2008 for Chronic Glomerulonephritis. The case developed in unusual ways, as the team struggled to determine the cause of the illness and subsequent unexpected complications.
Dr. Ilagan, MD, FPCP, RPh, earned his Medical degree from the Faculty of Medicine and Surgery of the University of Santo Tomas, Manila, Philippines and Bachelor of Science in Pharmacy degree, also in the same institute. He trained in Internal Medicine at the National Kidney and Transplant Institute (NKTI), Quezon City, Philippines and sub-specialized in Adult Nephrology also in NKTI.

Ulrik Stervbo won the Challenging Case Competition for his work on the application of T-cell receptor sequencing to solve a difficult case of acute rejection versus BKV associated nephropathy in a renal transplant recipient. The work was performed under the supervision of Prof. Nina Babel and Prof. Timm H Westhoff; respectively head and director of the Centre for Translational Medicine at the Marien Hospital Herne – University Hospital of the Ruhr University Bochum, Germany. The T-cell receptor sequencing of blood and biopsy revealed a higher frequency of BKV specific
T-cells in the transplant, compared to donor specific T-cells. This lead to a correction of the immune suppressive regime, which in turn alleviated the acute symptoms. Regular follow-ups show a steady and continuous improvement in graft function.
Ulrik Stervbo holds a bachelor's degree in physics as well as a master's degree in computer science and molecular biology from Roskilde University, Denmark. He completed his PhD at the German Rheumatism Research Center Berlin (DRFZ), Germany, where he worked on the repertoire of antigen specific regulatory T-cells. He continues to study the repertoires of the immune T and B-cells and its application in health and disease. Of particular interest is development of experimental and analytical methods