Women in Transplantation Update

The Women in Transplantation initiative of The Transplantation Society has stayed busy over the summer and though the fall.
New Leadership
Steering Committee:
We would like to thank Dr. Elaine Reed whose dedication and leadership has been instrumental in the success of Women in Transplantation. Dr. Reed's term as Chair ended in July. She has since passed the torch to Dr. Lori West who was Co-Chair for the past two-year term (WIT leadership terms are for two years). Dr. Roslyn Mannon has stepped up from her role on the WIT steering committee to become the WIT Co-Chair.
Pillar 1 – Advancing and Inspiring Women Transplant Professionals:
Dr. Lorna Marson has stepped down from her role as Pillar 1 Chair to focus on her responsibilities as the British Society of Transplantation's President. We welcome Christine Falk as the new Chair of Pillar 1. We thank her for her dedication and service.
Pillar 2 – Championing Issues of Sex and Gender in Transplantation:
We are happy to announce that Dr. Bethany Foster will continue in her role as Chair of Pillar 2.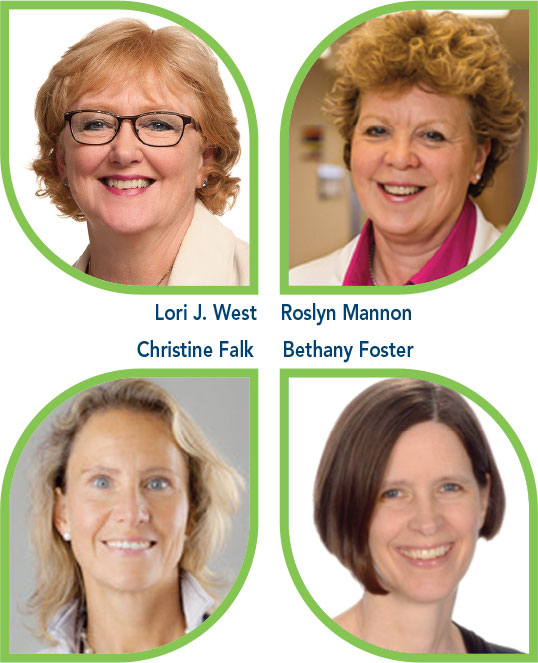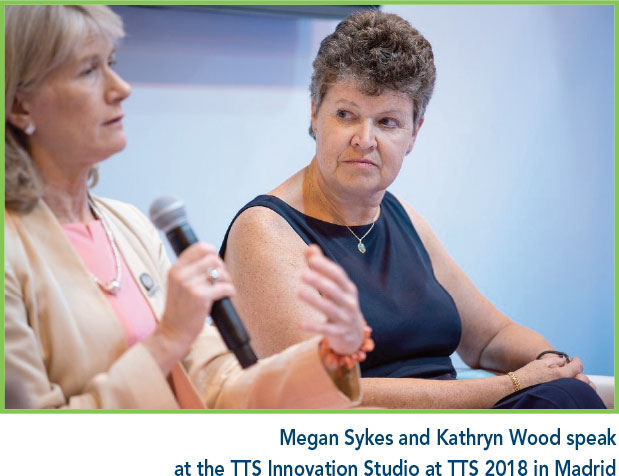 WIT at TTS 2018
WIT hosted a pre-meeting session at TTS2018 in Madrid on Saturday, June 30th entitled "Advancing Women in Transplantation through Leadership and Advocacy of Issues Related to Sex and Gender." Two sessions are available online: Increasing Leadership of Women in Transplantation: Challenges and Solutions with presentations from Dr. Lori J. West and Lisa A. Robinson as well as Creating a Culture of success & steps to improve equity with presentations from Dr. Maria Irene Bellini, Dr. Vassilios Papalois and Dr. Deborah Adey. You can view these presentations by going to https://tts.guide/webapp/programme/1
Congratulations:
WIT would like to congratulate two influential WIT leaders: WIT founder and current Advisory Board Member Kathryn Wood as well as WIT Steering Committee Member Megan Sykes on winning their Medawar Prizes (see page 11 for details).
Recent Networking Events:
WIT held two events this summer. The first was at the American Transplantation Congress in Seattle which was held jointly with AST's Women's Health Community of Practice (WHCOP). This event was sponsored by Novartis and Veloxis. Dr. Diane McKay, the incoming president of the American Society of Transplantation discussed the barriers and successes of academic careers for women. We appreciate the support of Novartis, Veloxis and One Lambda for these events.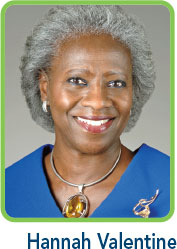 On October 4th, WIT held a networking breakfast at the American Society for Histocompatibility and Immuno-genetics where Dr. Hannah Valentine, NIH's first Chief Officer for Scientific Workforce Diversity described NIH's current approach and activities related to promoting inclusive excellence through fostering workforce diversity. This event was sponsored by One Lambda, Inc.
Upcoming Networking Events:
A networking dinner is being planned in Chicago on November 15th at SUNDA restaurant. The dinner will provide an intimate setting for transplantation professionals in the Chicago area to network and discuss mutual issues and achievements. For more information about this event as well as to learn about how you can host a local WIT event in your city contact: This email address is being protected from spambots. You need JavaScript enabled to view it. .