International Pediatric Transplant Association Update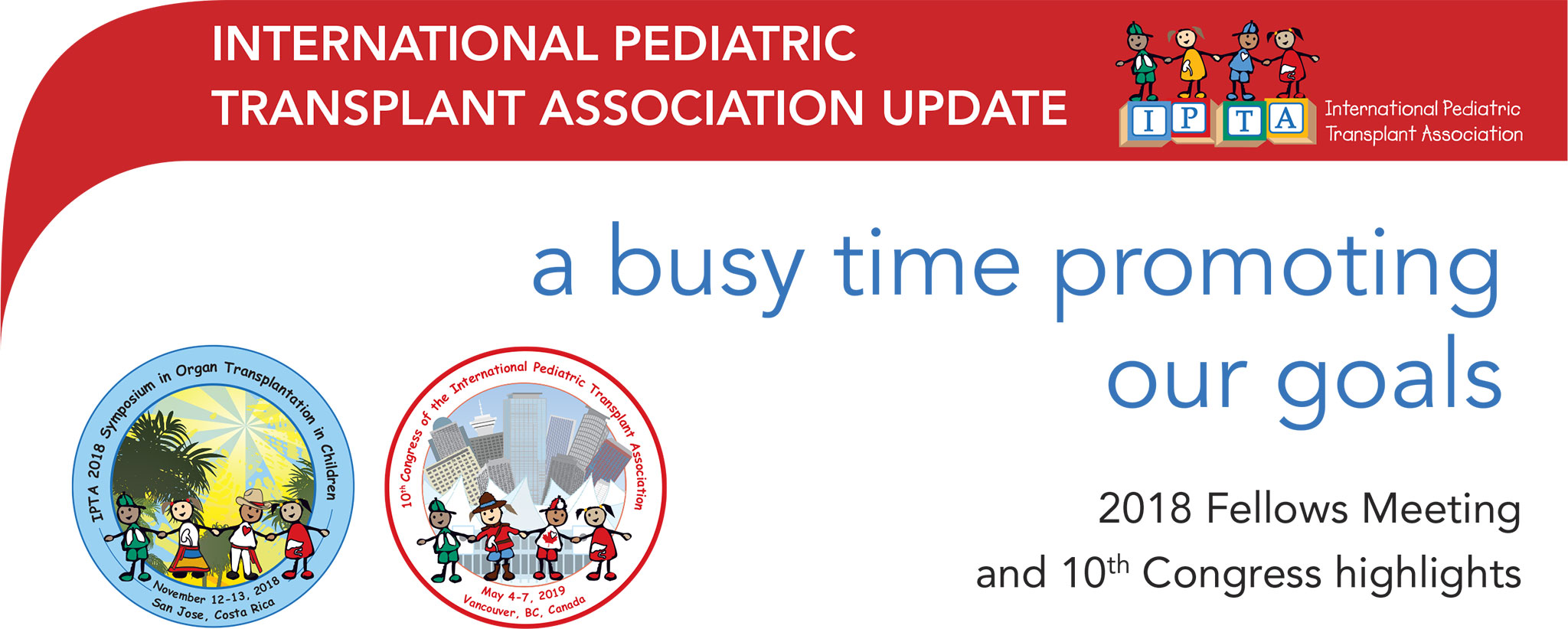 The IPTA Section has had a busy few months with the IPTA Fellows Meeting which was held in San Jose, Costa Rica, November 12–13, 2018, and was a big success with faculty and delegates learning and networking closely over 2 days.
Our Committees remain active and include Membership, Outreach, Ethics, Awards, Nominations, Publications, Allied health, Educations, and ID Committees all working together to keep the IPTA Section an active community.
Our journal, Pediatric Transplantation, has recently been taken over by Sharon Bartosh and Burkhard Tönshoff who are looking at all forms of social media to optimize the reach of the journal.
Our highlight of this year is the IPTA Congress and we are excited to have put together an exciting program for the 10th IPTA Congress, hosted in the beautiful city of Vancouver, British Columbia, Canada from 4–7th May 2019.
IPTA's goal is to promote the advancement of the science and practice of transplantation in children worldwide. This congress provided an amazing opportunity, on an international level, for all colleagues involved in pediatric transplantation to meet. The program was varied, with our hope that we appealed to all fields of pediatric transplantation so that we could learn from each other, meet up with old friends and meet new ones.
We had some interesting Pre-Congress Symposia including a Writing Workshop, and a Foundations of Pediatric Transplantation and Allied Health Symposia.
There were Plenary sessions with topics including: Machine Perfusion, Transplant Ethics, Surgical Issues, Tolerance, Infectious Disease Guidelines, and Lab Meets Clinical - Antibodies and Sensitisation. We also put together a number of State-of-the-Art lectures including MicroRNA Regulation of the Immune Response, Pediatric DCD, Strategies to Eliminate Waitlist Mortality, Obstacles to Transplantation and Transplantation in Under-resourced Settings. These together with Interactive Workshops and Poster Sessions gave lots of food for thought.
Speaking of food and not forgetting the social side of this wonderful city, we had a welcome reception as well as a social networking event at Bridges – a lovely scenic restaurant – where participants kicked off their shoes and danced the night away. For those who still had energy, we also had planned a wellness program including running, cycling and yoga.
Our thanks to all that attended!