ISN-TTS SISTER TRANSPLANT CENTERS PROGRAM - OCtober 1 Deadline
The deadline to submit an application to the ISN - TTS Sister Transplant Centers Program is October 1, 2018 (for 2019).
The ISN-TTS Sister Transplant Centers Program is a joint partnership set up between ISN and The Transplantation Society (TTS) to create new kidney transplant centers and develop existing kidney transplant programs in emerging countries. This initiative encourages transplant centers to work together to increase opportunities for kidney transplant patients in developing countries.
TRANSPLANTATION JOURNAL - HIGHLIGHTED ARTICLE

Dr Karen Keung, Editorial Fellow, Transplantation.
Extended Pancreas Donor Program—The EXPAND Study: A Prospective Multicenter Trial Testing the Use of Pancreas Donors Older Than 50 Years
Proneth A, Schnitzbauer AA, Schenker P, et al. Extended
Transplantation. 2018:102:1330-1337.
Simultaneous pancreas kidney (SPK) transplantation or pancreas transplantation after kidney (PAK) are the only curative treatment options for patients with type 1 diabetes and impaired kidney function; prolonged wait-times contribute to patient morbidity and mortality. The Extended Pancreas Donor Program (EXPAND) was conducted as a prospective, multicenter, single-blinded, nonrandomized, 2-armed trial comparing outcomes after SPK, pancreas transplantation alone (PTA), or PAK transplantation of organs with standard donor criteria to extended criteria donors (donor age 50-60 years or body mass index 30-34kg/m2). Organs were allocated only regionally to ensure a recommended cold ischemia time (CIT) of less than 12 hours. The duration of follow up was 1 year posttransplantation. The primary endpoint was insulin-free graft survival of the EDC pancreas allograft by 3 mths posttransplantation; secondary endpoints included overall survival (OS), pancreas graft survival, kidney graft survival, morbidity, biopsy-proven acute rejections and time on the waitlist. 79 patients were included in the study, 18 received EDC and 61 received standard organs. Only 1 organ from a donor with a BMI greater than 30 kg/m2 was used as an EDC organ, resulting in no real difference in BMI values between the EDC and standard groups. Mean EDC donor age was 51.4 ± 5 years versus 31.7 ± 12 in the control group. Insulin-free graft survival was 83.3% for EDC and 67.2% for standard organs (P = 0.245) by 3 mths. One-year pancreas survival, 1-year kidney survival, rejection episodes and morbidity were similar in both groups. These results support the implementation of EDC organs in a pancreas allocation system. Forthcoming long-term outcome will provide additional valuable information.
TTS-STALyC ONLINE INTERACTIVE UPDATE COURSE
IMMUNOLOGICAL ASPECTS IN SOLID ORGAN TRANSPLANTATION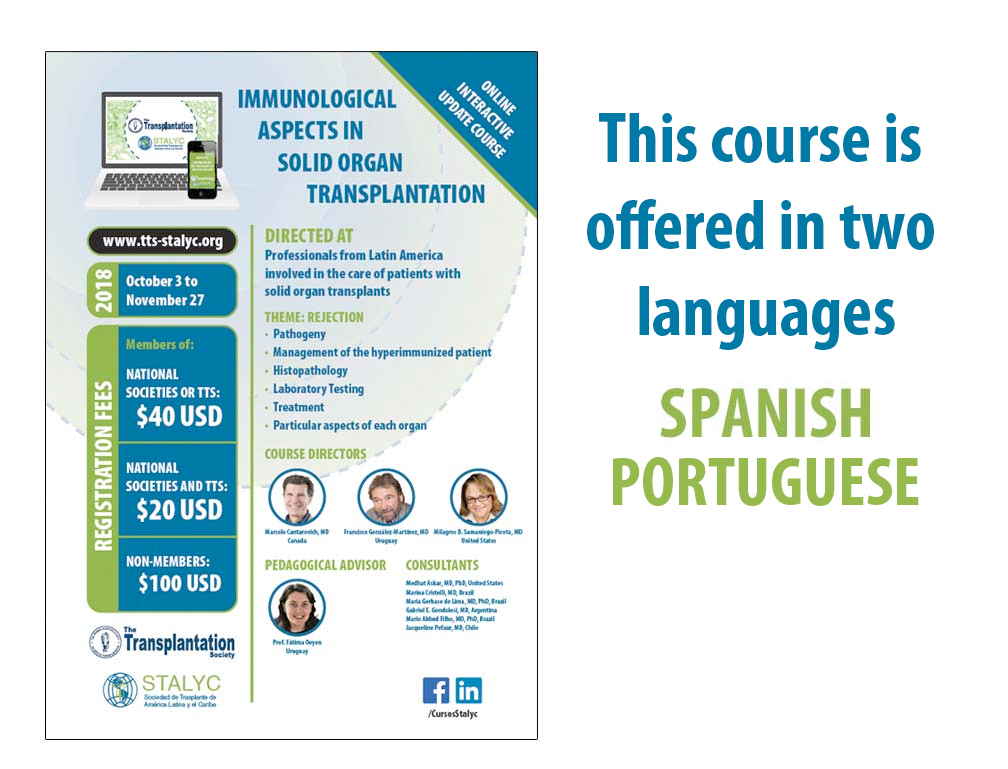 Over 150 Participants have Already registered!


From October 3 to November 27

Over an eight week period, featuring 28 online presentations, we will guide your through all the important aspects in immunology. We have enlisted many expert tutors to accompany the participants in the discussion by replying to questions throughout the week. The course was designed to allow participants to learn at their own pace and time during each week of the course.

The course has two sets of pricing (regular and for students/residents):
Regular fees are $100 USD, $40 USD for TTS or STALyC Members; $20 if you are a member of both TTS and STALyC.

Students/Residents can register for $40, $20 for TTS or STALyC Members, free for

TTS AND STALyC Members.

We will allow registration at the reduced member fees if you submit your application(s) prior to registering for the course.
Share this information with your fellows, post-docs and students!