Transplantation Journal OCtober Issue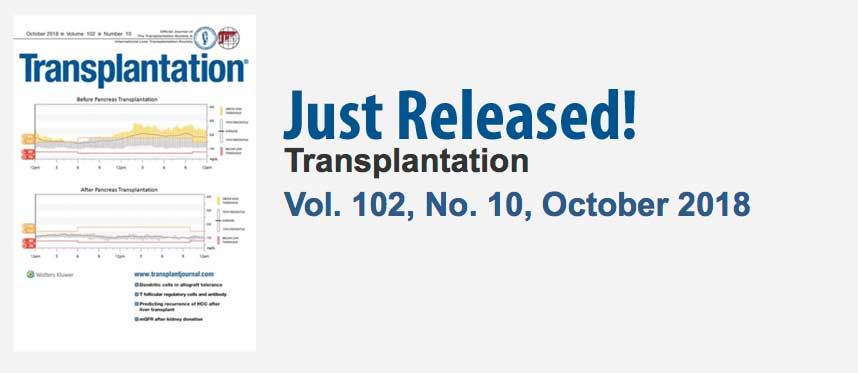 How important are DCs in tolerance and do Tfr have a role in antibody responses? Your questions are answered in this issue. Packed with information on issues as far apart as the progression of mGFR in living kidney donors; outcomes of bone marrow transplants in aplastic anemia; and a novel method to predict recurrence of HCC after liver transplantation, there is plenty to keep you interested.
ISN-TTS SISTER TRANSPLANT CENTERS PROGRAM - October 1 Deadline
The deadline to submit an application to the ISN - TTS Sister Transplant Centers Program is October 1, 2018 (for 2019).
The ISN-TTS Sister Transplant Centers Program is a joint partnership set up between ISN and The Transplantation Society (TTS) to create new kidney transplant centers and develop existing kidney transplant programs in emerging countries. This initiative encourages transplant centers to work together to increase opportunities for kidney transplant patients in developing countries.
ALmost 300 Signups - LAST CHANCE FOR YOU TO REGISTER!


TTS-STALyC ONLINE INTERACTIVE UPDATE COURSE
IMMUNOLOGICAL ASPECTS IN SOLID ORGAN TRANSPLANTATION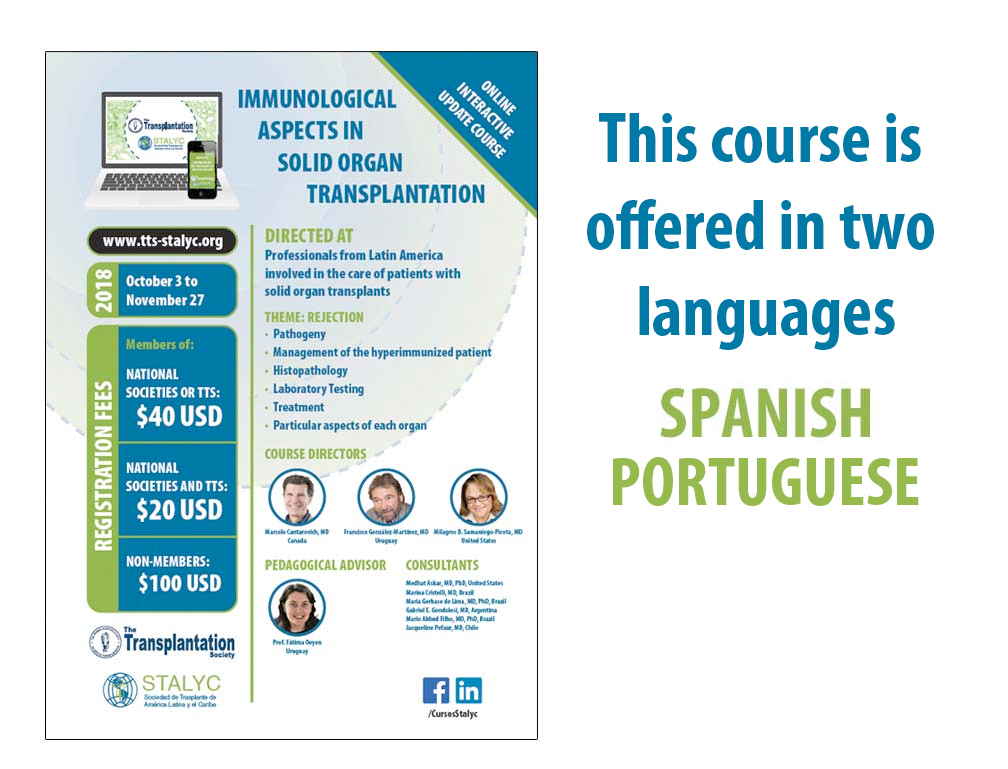 From October 3 to November 27
Over an eight week period, featuring 28 online presentations, we will guide your through all the important aspects in immunology. We have enlisted many expert tutors to accompany the participants in the discussion by replying to questions throughout the week. The course was designed to allow participants to learn at their own pace and time during each week of the course.
The course has two sets of pricing (regular and for students/residents):
Regular fees are $100 USD, $40 USD for TTS or STALyC Members; $20 if you are a member of both TTS and STALyC.

Students/Residents can register for $40, $20 for TTS or STALyC Members, free for

TTS AND STALyC Members.

We will allow registration at the reduced member fees if you submit your application(s) prior to registering for the course.
Share this information with your fellows, post-docs and students!
Heart, Heart-Lung Specialists Wanted!
The Heart and Lung Committee is seeking TTS Heart and Lung Specialist who want to take an active role in increasing H+L activity at TTS.
Email
This email address is being protected from spambots. You need JavaScript enabled to view it.

if you are interested!
WIT OCtober 4 Networking event @ ASHI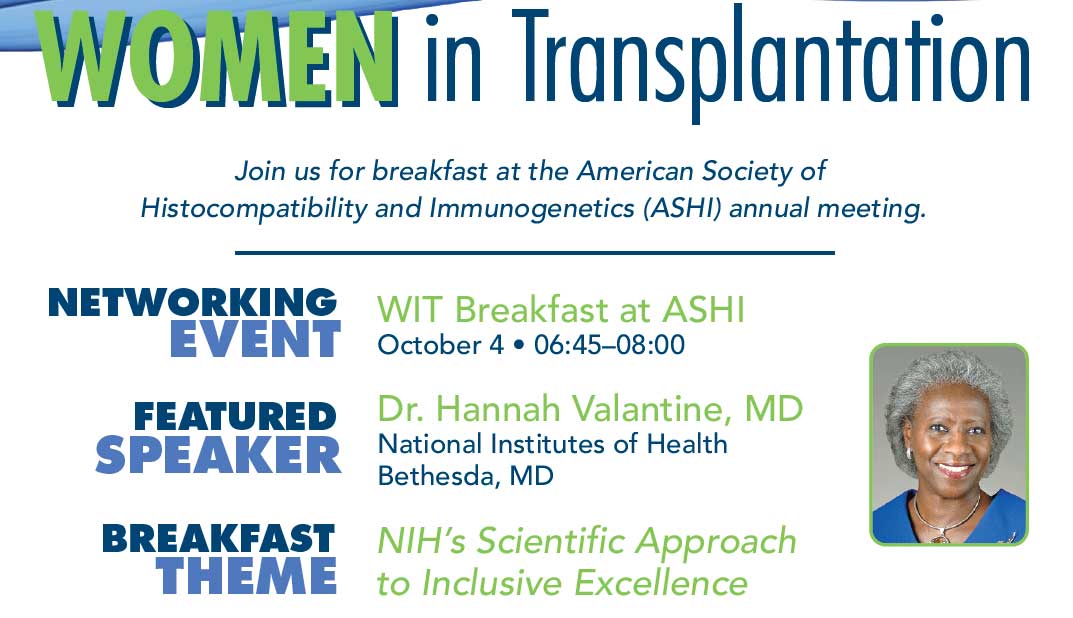 Space is limited - signup today!
NIH's first Chief Officer for Scientific Workforce Diversity, Dr. Hannah Valantine, will describe NIH's current approach and activities related to promoting inclusive excellence through fostering workforce diversity, and highlight four main diversity challenges facing biomedicine. She will also describe the development and use of the NIH Scientific Workforce Diversity Toolkit: a free, downloadable interactive resource to help advance faculty diversity through evidence-based interrelated activities. A key focus will be the need to advance institutional accountability for lasting change.