TRANSPLANTATION - WEEK'S MOST DOWNLOADED PAPER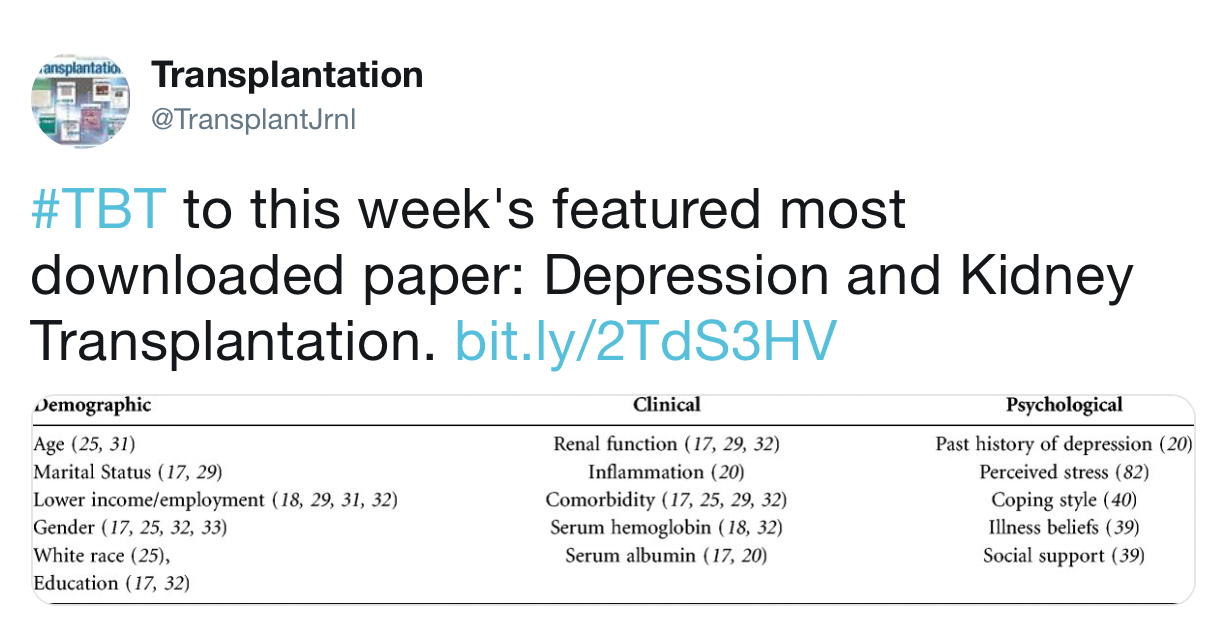 In the News
One step closer to growing made-to-order human kidneys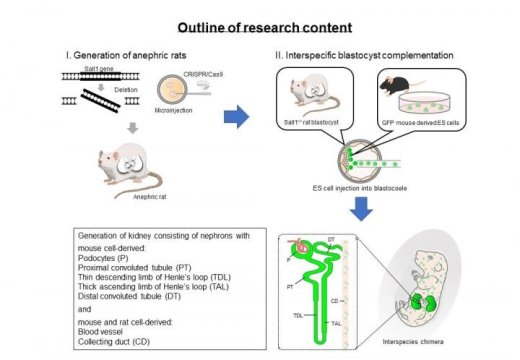 A diagram of method and result. Credit: NIPS
February 5 - In a study with significant implications for human organ transplantation, researchers have successfully grown functional mouse kidneys inside rats from just a few donor stem cells.
---
Many Patients Are Unwilling to Accept Transplantation of an HCV-Positive Organ
February 5 - The availability of organs that are positive for hepatitis C virus (HCV) can potentially decrease the length of time on organ transplantation waitlists and increase organ availability, but most patients are not willing or unsure whether they want to accept an HCV-positive organ, according to study results published in the American Journal of Nephrology.
---
Opioid OD Deaths Are Saving Lives Through Transplantation
February 5 - More than 70,000 lives were lost to drug overdoses in the United States in 2017. Now, some of those touched by these tragedies might take a little comfort knowing their loved one's heart helped save a life.
---
CNBC News Article - Transplanting pig kidneys in humans, 3D organ printing and other futuristic innovations to solve the organ shortage
February 3 - CNBC Posted an article highlighting researchers, doctors and policymakers who are exploring new strategies to increase the supply of organs needed to meet demand.
---
Feces transplantation: Effective treatment facing an uncertain future
February 5 - In the right intestines, feces can save lives. This is shown by a new study of feces transplantation and the life-threatening intestinal disease Clostridium difficile. Medical doctors and researchers from Aarhus, Denmark, are presently building up a feces bank, but both the treatment and its non-targeted research could be about to come under pressure.
---
New method improves transplant safety in mice
February 8 - New research led by Scadden and his colleagues at Harvard University has demonstrated in mice an effective alternative to this toxic pretreatment.
---
Doctors introducing kidney transplant from brain-dead donors in Bangladesh
February 4 - If successful, this cadaveric kidney transplant will raise new hopes among the patients who need kidneys but cannot find living donors. The government last year amended the organ donation law allowing collection of organs from the brain-dead. But getting consent from the relatives remains a major challenge.
---
Transgender women and womb transplants
February 8 - A leading British surgeon has called for transgender women to be entitled to womb transplants so they can have their own babies.
---
BBC Two's Hospital prompts surge in organ donor sign-ups
February 8 - More than 1,300 people signed up to the organ donor register following an episode of BBC Two documentary Hospital. NHS Blood and Transplant (NHSBT) said it saw a surge in interest during and after Thursday night's show. The episode followed patients in two Liverpool hospitals, including some waiting for transplants and a pregnant mother who wanted to donate tissues from one of her twins who would die shortly after birth.
---
Collaborators Explore New Ways to Assess Lungs' Viability for Transplant
February 5 - Canada's SQI Diagnostics and the University Health Network (UHN) will work together to advance the development and approval of new rapid protein assays and a point-of-care (POC) diagnostic device to help surgeons assess the viability of lungs and other organs for transplant.
---
Benefits of early mobilization after pediatric liver transplantation
February 8 - Researchers assessed the effect of early mobilization after pediatric liver transplantation in the PICU in this 70-month retrospective before-after study. This study was conducted at medical and surgical PICU with 20 beds at a tertiary children's hospital and included 75 patients 2–18 years old who had liver transplantation and could walk before surgery. An early mobilization intervention, a multifaceted framework for early mobilization practice in the PICU focusing on a multidisciplinary team approach, was implemented. Findings revealed that a shorter duration from liver transplantation to regaining the ability to walk again without a rolling walker was attained by implementing early mobilization for pediatric patients who underwent liver transplantation. Overall, for this patient population, beneficial impacts of early mobilization intervention were seen.