MAY 21 - WEBINAR REMINDER

TITLE: MULTIDISCIPLINARY CARE MODEL FOR OPTIMAL MANAGEMENT OF THE NASH LIVER TRANSPLANT WAITLIST CANDIDATE
TUESDAY, MAY 21, 2019 - 4:00 PM EDT (MONTREAL TIME)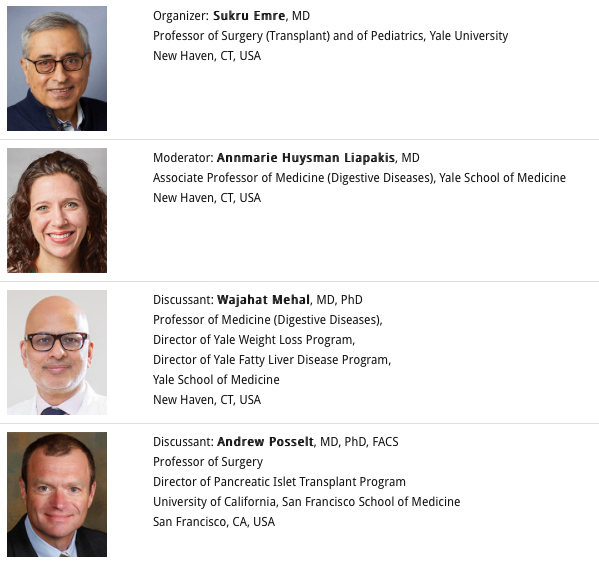 Overview:
Dr. Mehal will speak on implementation of multidisciplinary care model - pharmacologic weight loss therapy in advanced liver disease and special considerations for the sarcopenic obese patient.
Dr. Posselt will speak on bariatric surgery: approach and special considerations in advanced liver disease.
CLICK HERE TO SIGNUP VIEW
TRANSPLANTATION - HIGHLIGHTED ARTICLE
Dr. Karen Keung, Editorial Fellow, Transplantation
ASSOCIATION BETWEEN DURATION OF DELAYED GRAFT FUNCTION, ACUTE REJECTION, AND ALLOGRAFT OUTCOME AFTER DECEASED DONOR KIDNEY TRANSPLANTATION
Lim WH, Johnson DW, Teixeira-Pinto A, et al.
Transplantation 2019; 103 (2): 412–419
Delayed graft function (DGF) is associated with adverse allograft outcomes, but uncertainties exist as to the association between the threshold duration of DGF, acute rejection and long-term graft loss. In this study, the authors used data from the Australia and New Zealand Dialysis and Transplant (ANZDATA) registry to determine the association between quartiles of DGF duration, acute rejection at 6 months and death-censored graft loss (DCGL). DGF was defined as the need for dialysis within 72 hours of transplantation, whilst the duration of DGF was defined as the number of days that dialysis was required and categorized into quartiles (1-4 days, 5-7 days, 8-13 days, and >=14 days).
Of the 7668 deceased donor transplants performed during the study period, 1497 (19.5%) recipients experienced DGF. The median (IQR) duration of DGF was 7 (9) days, with 25% of recipients with DGF requiring dialysis for at least 14 days. The median (IQR) graft and patient follow-up periods were 4.2 (6.3) years and 4.9 (7.3) years. Compared with DGF duration of 1 to 4 days, the adjusted HR (95% CI) for DCGL for each category of DGF duration in ascending order were 1.10 (0.73-1.67; P = 0.638), 1.45 (1.00-2.11; P = 0.05), and 1.60 (1.10-2.31; P = 0.01) respectively, and were 1.13 (95% confidence interval [CI], 0.83-1.55; P = 0.43), 1.44 (95% CI, 1.08-1.91; P = 0.013), and 1.99 (95% CI, 1.50-2.65; P < 0.001) respectively for acute rejection. The proportion of the effect between DGF duration and DCGL mediated by acute rejection was 8.4%. In conclusion, a direct dose-dependent effect between the duration of DGF and allograft loss was demonstrated. Further research to identify potential modifiable mediators of DGF duration are needed..
CLICK HERE TO VIEW (Open Access)