JUST RELEASED - TRANSPLANTATION - JUNE ISSUE
Hot topics this month include issues of patient navigation for recipients and both assessment and care of living donors counterpoised with standardization of outcome measures for clinical trials in transplantation. Liver transplant allocation in Europe and liver retransplantation in North America are of great importance, and interesting data may change approaches in the future. Reviews of the impact of sex and gender accompany reviews of subclinical inflammation and fibrosis. Enough for summer reading on the beach?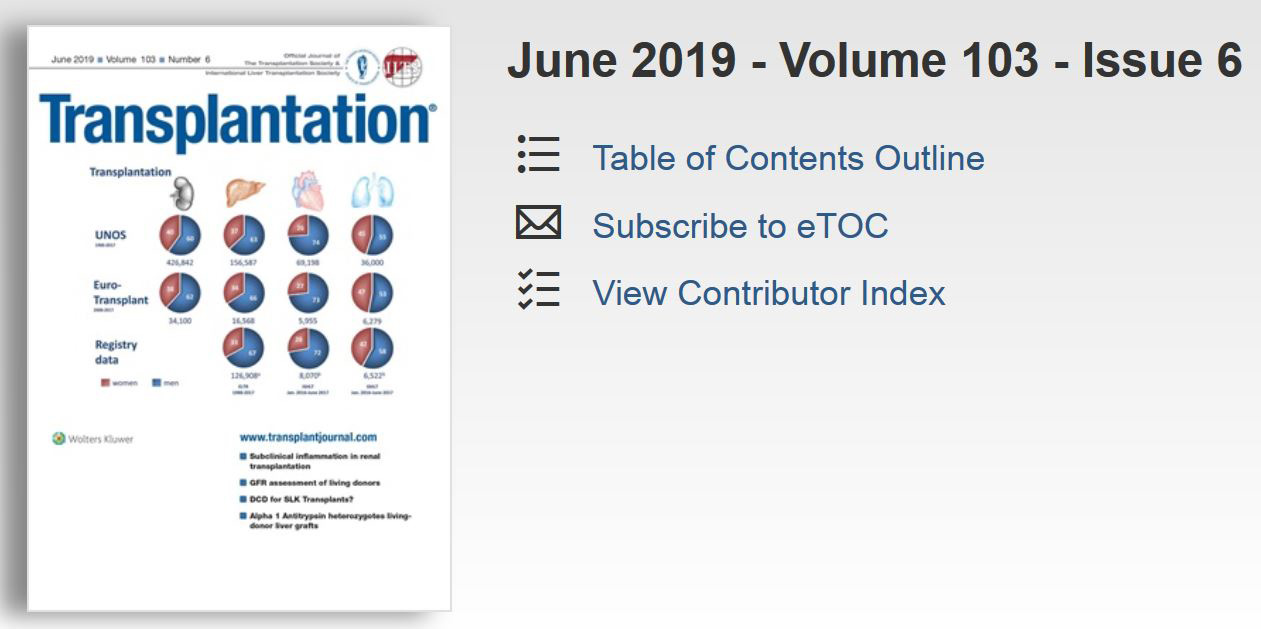 CLICK HERE TO ACCESS THIS ISSUE
TTS MEMBERS - CLICK HERE TO SIGN-IN FOR OPEN ACCESS THROUGH TTS.ORG
TTS BIENNIAL CONGRESS LOCATIONS TO ROTATE BY REGION
During its March 2019 meeting, the TTS Council discussed the method of selecting locations for its biennial congresses.
In the past, a call-for-bids was issued at large to all members of TTS regardless of location. The bids were then analyzed and a location selected based on various criteria, including capabilities of the sponsoring society and venue, budgets, safety, travel connections for our worldwide members, etc. These criteria while all valid largely disregarded the global leadership role of TTS to help develop transplantation in all six TTS Regions: North America, Europe, Latin America, Asia, Middle East & Africa, and Oceania. As a result, since 1980 and projected to 2022, the TTS Biennial Congress was awarded 8 times to North America, 8 times to Europe, 3 times to Asia, twice to Oceania, and once to Latin America; it has not been awarded once to Middle East & Africa.
As a change from previous years, the TTS Council has decided during its March meeting that it would be more appropriate for future congresses to take place on a rotation among all of the TTS Regions represented, and that this rotation should begin with the 2024 congress to be held in the Middle East & Africa Region as it is the only region that has not yet organized a TTS congress. For this reason, the bids for the 2024 and future TTS Biennial congresses will be made by invitation only.
Invitations to bid for the 2024 congress have therefore been sent to the Middle East Society for Organ Transplantation (MESOT) and the Southern African Transplantation Society (SATS).
Beginning 2026, a fixed rotation to TTS Regions will take place, starting with the Region that has not held a congress for the longest time. This will mean that the rotation will be Oceania in 2026, North America in 2028, Europe in 2030, Asia in 2032, Latin America in 2034 and back to Middle East & Africa in 2036.
Of course, if a viable bid is not presented from the scheduled Region, alternative bids will be sought.
If you have any questions regarding this process, please contact the TTS Executive Director (This email address is being protected from spambots. You need JavaScript enabled to view it.).
TRANSPLANTATION - HIGHLIGHTED ARTICLE
Dr. Andrea Schlegel, Editorial Fellow, Transplantation
The Relationships Between Cold Ischemia Time, Kidney Transplant Length of Stay, and Transplant-Related Costs
Serrano OK, Vock DM, Chinnakotla S, et al.
Transplantation 2019; 103 (2): 401-411
On the background of a changed organ allocation policy with the aim to equally serve candidates waiting for a kidney transplantation in all regions, authors of this interesting manuscript have developed statistical models to assess the impact of cold ischemia time (CIT) on the rate of delayed graft function (DGF) and length of hospital stay (LOS).
The statistical analysis is based on the entire kidney recipient population in United States, transplanted between 2006 and 2014. Outcomes after kidney transplantation in the authors' own center were compared to the UNOS population. Interestingly, authors found a higher DGF rate in the national population (25.7%), when compared to their own centers (17.8%), where machine perfusion was used more frequently as well. A 10 hour increase in CIT was associated with a 41% increase in the adjusted odds of DGF. Preemptive transplants and the use of machine perfusion was associated with reduced rates of DGF. Additionally, an increase in CIT led to a prolonged hospital stay mediated through higher DGF rates and subsequently elevated cost. The overall message, that a quicker kidney implantation with subsequent reduction of cold ischemia time or improved kidney quality by application of machine perfusion, will not only reduce DGF rate but also achieve a reduction of LOS and related costs is of great clincial importance. The authors should be congratulated for their paper. Further studies in this field are of great interest.
WEBINAR | LEARN HOW EASY IT IS TO APPLY FOR THE ISN-TTS SISTER TRANSPLANT CENTERS PROGRAM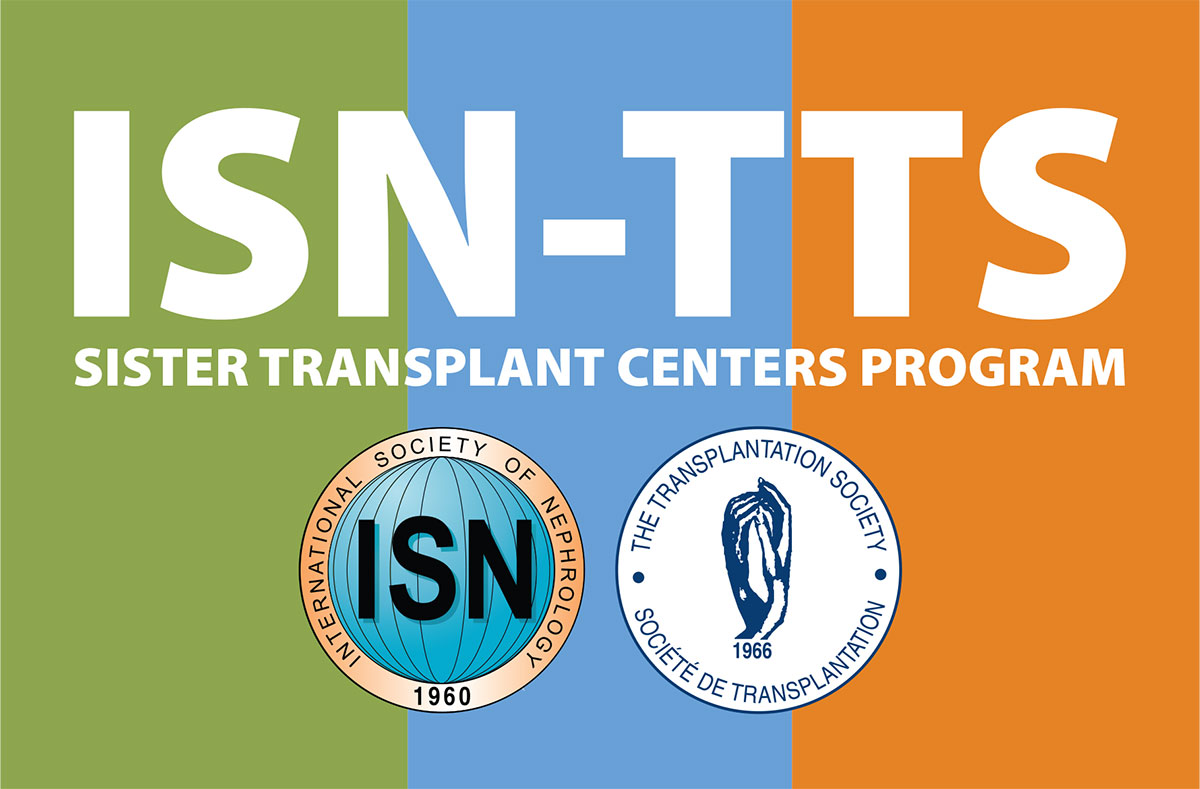 When?
June 24 AT 2 PM CEST. Check when this webinar is happening in your timezone, here.
Speakers
Peter Kerr, Chair of the ISN Sister Centers Programs, and Philip J. O'Connell, Past-President of The Transplantation Society and Director of Transplantation, will guide you through each step of the application process.
They will share some handy tips on how to prepare a successful application and answer any questions you may have.
About the ISN-TTS Sister Transplant Centers Program
The ISN-TTS Sister Transplant Centers Program link renal and transplant centers in low-resource countries with established centers so they can benefit from educational support and work together to increase opportunities for kidney patients.
CLICK HERE TO Register