TTS PRESIDENT - PROF. HABERAL OPENS THE SUMMER WORLD TRANSPLANT GAMES IN NEWCASTLE GATESHEAD, UK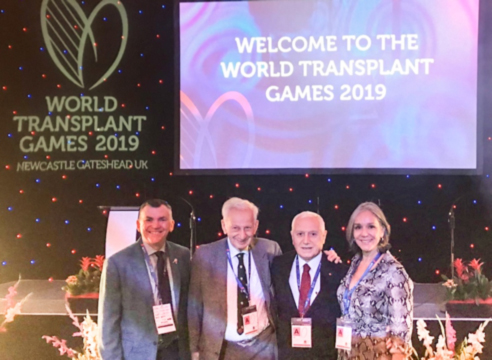 (From left to write) Chris Thomas (President of WTGF), Dr. Maurice Slapak (Founding President of WTGF), Prof. Haberal (President of TTS), and Liz Schick (Honorary Secretary of WTGF)
For over 35 years the World Transplant Games Federation has been staging international sporting events and encouraging education around transplantation in order to promote the physical success of transplant surgery and the need to raise public awareness and increase organ donation. Through their various initiatives, the WTGF have aimed to highlight the importance of physical activity and healthy lifestyle in the long term management and well being of transplant recipients. The 2019 Summer Games have been no exception to this excellent track record.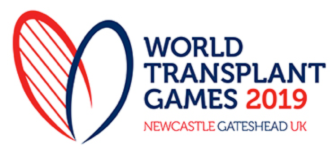 This year, on 17-23 August, the Summer World Transplant Games are being organized in Newcastle Gateshead, UK. Participants from 53 countries from across the world arrived for the games with a number of countries taking part in the Games for the first time, including Azerbaijan, Ethiopia, Kenya and Andorra. Altogether 1,500 athletes registered to compete at various sporting venues across the North East during the Games. These highly emotive games are a celebration of a second chance of living life to the full. The Games demonstrate the success of transplant surgery and promote the need to increase organ donation and raise public awareness of discussing our wishes with our families.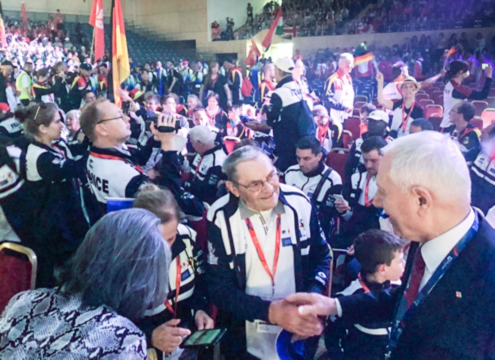 Prof. Haberal greeting an athlete from the French team
The Opening Ceremony, marking the start of the Games, took place on August 17 with the attendance of close to 3000 people. In addition to the registered athletes, a large number of donors and donor families were also present. Following a welcome by WTGF President Mr. Chris Thomas, Prof. Mehmet Haberal, President of The Transplantation Society, was invited to make his opening remarks. Prof. Haberal stressed the importance of supporting such initiatives for all transplant recipients and donors throughout the world. Highlighting the importance of organ donation – in particular deceased donation – as the opportunity to give a second chance at life to the many patients with end stage organ failure, Prof. Haberal also indicated that through a collaboration with TTS and by adopting a more regional approach, the WTGF would be able to further its reach to countries that have been less active in this field. Prof. Haberal concluded by wishing the athletes a successful and enjoyable week and by presenting a congratulatory plaque to Mr. Chris Thomas on behalf of the WTGF for their hard work in organizing such a successful Summer Games.
ISN-TTS SISTER TRANSPLANT CENTERS PROGRAM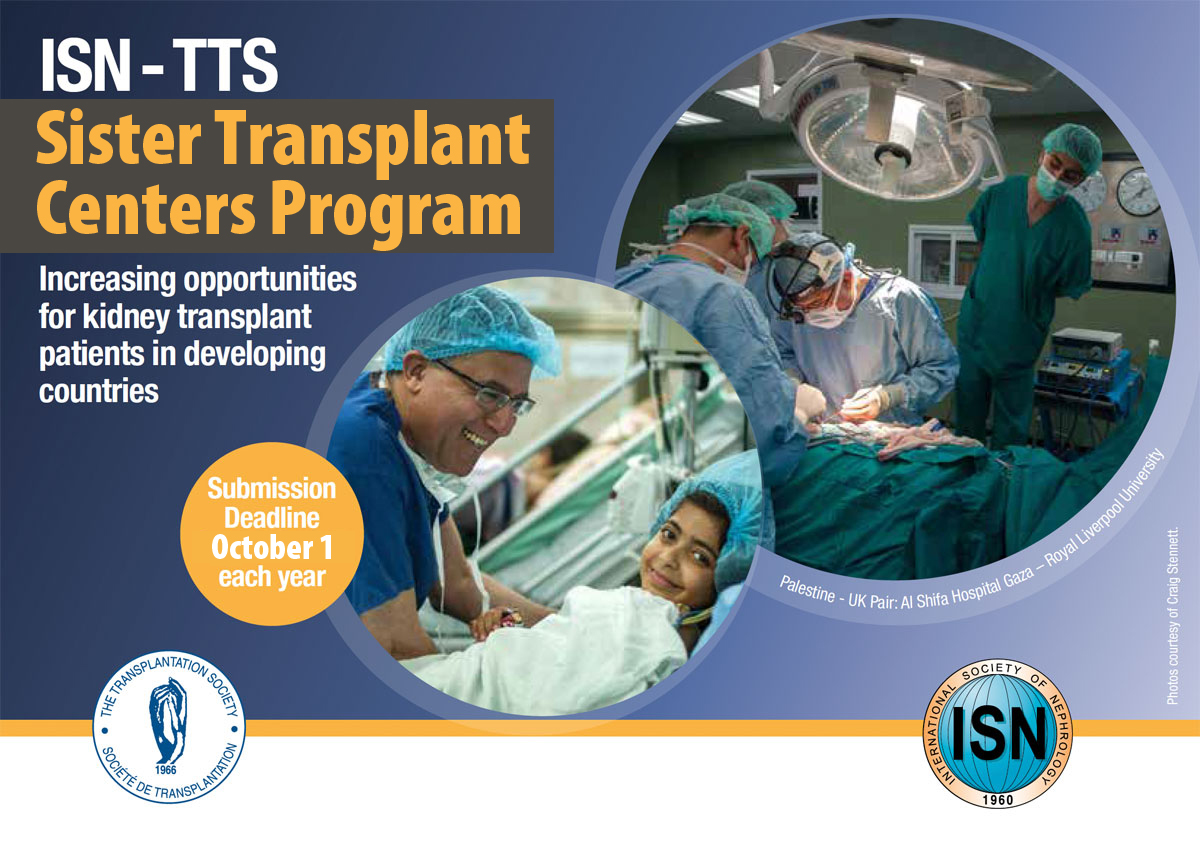 THE DEADLINE TO SUBMIT AN APPLICATION TO THE ISN - TTS SISTER TRANSPLANT CENTERS PROGRAM IS OCTOBER 1, 2019 (FOR 2020).
The ISN-TTS Sister Transplant Centers Program is a joint partnership set up between ISN and The Transplantation Society (TTS) to create new kidney transplant centers and develop existing kidney transplant programs in emerging countries. This initiative encourages transplant centers to work together to increase opportunities for kidney transplant patients in developing countries.
CLICK HERE TO LEARN MORE