2012 - Transplantomics and Biomarkers in Transplantation
---
This page contains exclusive content for the member of the following sections: TTS, IHCTAS
Abstract Driven Session
8.6 - MicroRNA Profiles in Allograft Tissues and Paired Urines Associate with Chronic Allograft Dysfunction with IF/TA
Presenter: Valeria, Mas, Charllottesville, VA, USA
Authors: Mariano Scian, Daniel Maluf, Kenneth Brayman, Valeria Mas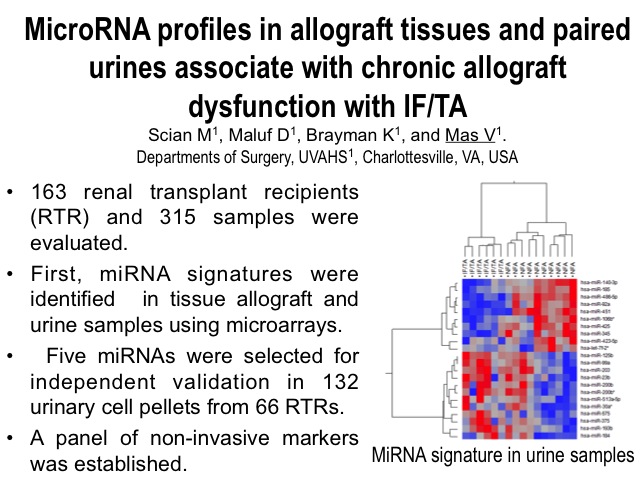 ---
MicroRNA profiles in allograft tissues and paired urines associate with chronic allograft dysfunction with IF/TA
Mariano Scian, Daniel Maluf, Kenneth Brayman, Valeria Mas.
Department of Surgery, University of Virginia HS, Charlottesville, VA, USA.
Background: Despite the advances in immunosuppression and surgical innovations, long term kidney allograft outcomes over time remains poor due to chronic allograft dysfunction (CAD) with interstitial fibrosis (IF) and tubular atrophy (TA).
Patients and Methods: We evaluated microRNA (miRNA) signatures in primary cadaveric renal transplants (CAD) with IF/TA and appraised correlation with paired urine samples and potential utility in prospective evaluation of graft function. MicroRNA signatures were established between CAD with IF/TA vs. normal allografts by microarray. Allograft tissues (N=45) and urine samples (N=122) from 81 primary deceased donor kidney recipients were studied. Microarray result validation and prospective evaluation of urine samples was performed using RT-qPCR.
Results: Fifty-six miRNAs were identified in samples with CAD-IF/TA. Five miRNAs were selected for validation based on array fold change, p-value and in silico predicted mRNA targets. We confirmed the differential expression of these 5 miRNAs by RT-qPCR using an independent set of samples. Differential expression was detected for miR-142-3p, miR-204, miR-107, and miR-211 (P<0.001) and miR-32 (p<0.05). Furthermore, differential expression of miR-142-3p (p<0.01), miR-204 (p<0.01) and miR-211 (p<0.05) was also observed between patient groups in urine samples.
Conclusion: A characteristic CAD-IFTA miRNA signature that correlates with paired urine samples was identified. These results support the potential use of miRNAs as non-invasive markers of IF/TA and for monitoring graft function and furthermore, the development of graft dysfunction overtime.
---
By viewing the material on this site you understand and accept that:
The opinions and statements expressed on this site reflect the views of the author or authors and do not necessarily reflect those of The Transplantation Society and/or its Sections.
The hosting of material on The Transplantation Society site does not signify endorsement of this material by The Transplantation Society and/or its Sections.
The material is solely for educational purposes for qualified health care professionals.
The Transplantation Society and/or its Sections are not liable for any decision made or action taken based on the information contained in the material on this site.
The information cannot be used as a substitute for professional care.
The information does not represent a standard of care.
No physician-patient relationship is being established.