TTS-IRTA AHP Webinar - Thursday, February 27, 2020 - 4:00 PM EST (Montreal time)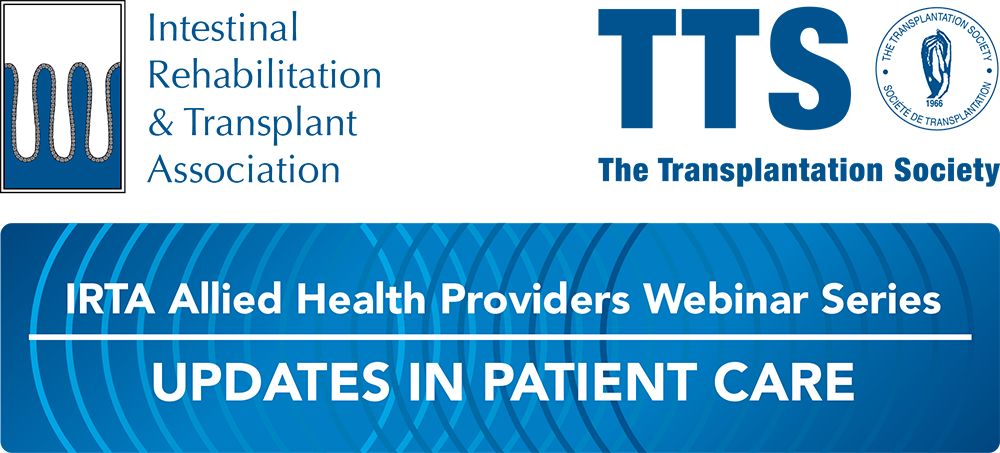 IRTA Allied Health Providers Webinar Series: Updates in Patient Care
Pediatric Intestinal Failure and Transplant: Updates in Patient Care
Thursday, February 27, 2020 - 4:00 PM EST (Montreal time)
Discussant: Stephanie So, MSc. PT
Physiotherapist
The Hospital for Sick Children, Toronto
Transplant and Regenerative Medicine Centre
Group for Improvement of Intestinal Function and Treatment (GIFT)
University of Toronto
Toronto, ON, Canada
Discussant: Brooke Chapman, APD
Senior Clinician, Nutrition & Dietetics
Liver & Intestinal Transplant Unit. PhD Candidate
Austin Health
Victoria, Australia
Discussant: Carly Bambridge, CNS, RN
Clinical Nurse Specialist, Paediatric Intestinal Transplant
King's College Hospital
Institute of Liver Studies
Denmark Hill, London, UK
Moderator: Beverly Kosmach-Park, DNP, RN, FAAN
Clinical Nurse Specialist
Department of Transplant Surgery
Children's Hospital of Pittsburgh
Pittsburgh, PA, USA
WEBINAR SUMMARY:
The Allied Health Provider Committee of IRTA is pleased to present the first webinar of the Allied Health 2020 Speaker Series. This webinar will focus on patient care strategies and outcomes within intestinal rehabilitation and transplant. The topics presented will provide updates focusing on nutritional interventions and physical outcomes in intestinal failure as well as analgesia post-intestine transplant. Each presentation will be 15 minutes in length followed by a 5-minute question period.
GROWTH FACTORS IN INTESTINAL FAILURE
BROOKE CHAPMAN, APD
Brooke Chapman, BAppSci, Masters (Nutrition and Dietetics), Accredited Practising Dietitian, PhD (c)
Brookeis a senior clinical dietitian from Melbourne, Australia, and has worked in the Liver and Intestinal Transplant Unit at Austin Health for almost 15 years. She is experienced in the nutritional management of liver disease, intestinal failure and transplant. Brooke is active in clinical research to enhance outcomes for these patients with complex nutritional needs and is currently undertaking a PhD in this area.
Following participation in this session, the learner will be able to:
Develop an awareness of growth factors currently available for clinical use in patients with SBS-IF.
Have a general understanding of the mechanism of action of GLP-2 and how it enhances enteral absorption.
Describe the most recent 'real-world' outcomes of patients with SBS-IF treated with teduglutide.
PHYSICAL ACTIVITY, STRENGTH AND FATIGUE IN CHILDREN WITH INTESTINAL FAILURE ON PARENTERAL NUTRITION
STEPHANIE SO, MSC. PT
Stephanie is a physiotherapist from SickKids in Toronto, Canada and works in the Liver and Intestinal Transplant and Intestinal Rehabilitation Program (GIFT). She is also a lecturer at the University of Toronto. Stephanie has published on neurodevelopmental outcomes and physical function in children with intestinal failure, and physical function and activity outcomes in children post liver transplant. She is an active member of the IRTA Allied Health Committee.
Following participation in this session, the learner will be able to:
Summarize current research findings looking at motor skills, strength and physical function in children with intestinal failure.
Discuss differences in physical activity, strength, fatigue and physical function in children with intestinal failure compared to healthy controls.
List several variables that may impact strength and agility in this population.
ANALGESIA REQUIREMENTS FOR PATIENTS WITH CHRONIC INTESTINAL PSEUDO-OBSTRUCTION (CIPO) POST-INTESTINE TRANSPLANT
CARLY BAMBRIDGE, CNS, RN
Carly is the lead nurse for Intestinal Transplantation at King's College Hospital, London. Her role includes support and education for patients and their families from transplant assessment and continuing through long term follow-up after transplant. She is a member of the IRTA Allied Health Provider committee and has been involved in the organisation of the United Kingdom Small Bowel Transplant Meetings. She is also a member of the Multi-visceral and Composite Tissue Advisory Group (MCTAG) which advises the NHS Blood and Transplant service. Carly's interests include health promotion post-transplant, the development of services to meet the needs of patients undergoing multi-visceral transplantation, and burden of care post-transplant.
Following participation in this session, the learner will be able to:
Discuss two symptoms that patients with CIPO may experience as part of this disorder.
List two reasons why pain may have an impact on recovery following intestinal transplantation.
Identify a patient you have cared for post-transplant. Reflect on the pain management strategy and the patient's underlying diagnosis. Were there any issues with pain management post-operatively?
MODERATOR
BEVERLY KOSMACH-PARK, DNP, RN, FAAN
Beverly is a Clinical Nurse Specialist for the Department of Transplant Surgery at Children's Hospital of Pittsburgh. She works with liver and intestine transplant patients and their families from evaluation through chronic care post-transplant. Beverly is Chair of the Allied Health Providers Committee of IRTA and on the Board of Directors of IRTA.