2020 - TTS-IRTA Allied Health Providers Webinar Series: Updates in Patient Care
---
Pediatric Intestinal Failure and Transplant: Updates in Patient Care
10.2 - Pediatric Intestinal Failure and Transplant: Updates in Patient Care
Presenter: Beverly, Kosmach-Park, ,
Authors: Elizabeth Fleagle, Lisa Vokes, Velma Wright, Jemma Mears, Beverly Kosmach-Park

TTS-IRTA AHP Webinar - Monday, July 20, 2020 - 9:00AM EDT (Montreal time)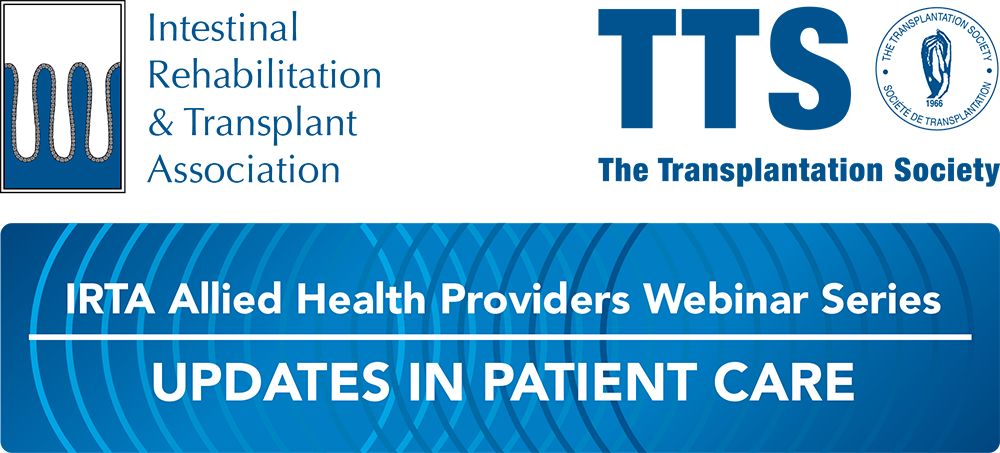 IRTA Allied Health Providers Webinar Series: Updates in Patient Care
Pediatric Intestinal Failure and Transplant: Updates in Patient Care
Monday, July 20, 2020 - 9:00AM EDT (Montreal time)
Discussant: Elizabeth Fleagle (US)
Senior staff psychologist at Henry Ford Health System, Transplant Institute

Psychological Challenges in Adult Multivisceral Patients

Discussant: Lisa Vokes (UK)
Specialist Dietitian in Gastroenterology, Intestinal Failure and Intestinal Transplant

An Algorithm for Progression from PN to Oral Nutrition

Discussant: Velma Wright (UK)
Senior Specialist Support Worker / Social Worker for the Liver Unit at Birmingham Women's and Children's Hospital, Birmingham, UK

Strategies to Support Families Facing Intestinal Transplant

Moderator: Jemma Mears (UK)
Principal Physiotherapist for Hepatology and Transplantation at Birmingham Women's and Children's NHS Foundation Trust
Organizer: Beverly Kosmach-Park, DNP, RN, FAAN
Clinical Nurse Specialist
Department of Transplant Surgery
Children's Hospital of Pittsburgh
Pittsburgh, PA, USA
Webinar Summary:
The Allied Health Provider Committee of IRTA is pleased to present the second webinar of the Allied Health 2020 Speaker Series. This webinar will focus on patient care strategies and outcomes within intestinal rehabilitation and transplant. The topics presented will provide updates focusing on nutritional interventions, psychological challenges and psychosocial stressors in intestinal failure and intestine transplant. Each presentation will be 15 minutes in length followed by a 5-minute question period.
Psychological Challenges in Adult Multivisceral Patients
Elizabeth Fleagle, PsyD. Dr. Fleagle is a senior staff psychologist at Henry Ford Health System, Transplant Institute. In her current role she manages transplant psychology services in the kidney, multi-visceral, and live liver donation programs. She has expertise in pre-surgical evaluations and the management of psychiatric issues throughout the transplant process. She is actively working to enhance and expand current psychosocial services by developing protocols to reduce non-adherence in post-kidney transplant patients and evaluating and streamlining psychosocial intervention in multi-visceral transplant patients. Dr. Fleagle has presented and published on behavioral health integration, psychosocial issues, and multicultural considerations in transplant. She currently is on the executive committee for the American Society of Transplant, Psychosocial and Ethics Community of Practice.
Psychological Challenges in Adult Multivisceral Patients
Following this presentation, the participant will be able to:
Summarize current research findings in psychological presentation of adult multi-visceral transplant patients
Discuss the observed course of psychological symptoms throughout transplant process
Identify future areas of study for addressing psychological needs of patients.
An Algorithm for Progression from PN to Oral Nutrition
Lisa Vokes BSc RD. Specialist Dietitian in Gastroenterology, Intestinal Failure and Intestinal Transplant
Lisa is a specialist dietitian within the small bowel intestinal transplant program of Oxford University Hospitals NHS Trust. She also provides specialist dietetic input for Gastroenterology patients and is the lead dietitian for the intestinal failure nutrition team. Lisa is Chair of the British Dietetic Association's Gastroenterology specialist group and committee member of the Council for Allied Health Research (CAHPR) Oxfordshire Hub.
An Algorithm for Progression from PN to Oral Nutrition
Following this presentation, the participant will be able to:
Generally discuss the patients nutritional journey from transplantation surgery to discharge from hospital.
Cite an overview of current research outcomes in progressing from PRN to oral nutrition
Contribute within their practice to the proposed steps required as a health care community, building on the information available to health care professionals about nutrition management
Strategies to Support Families Facing Intestinal Transplant
Velma Wright BSc, SW. Senior Specialist Support Worker / Social Worker for the Liver Unit at Birmingham Women's and Children's Hospital, Birmingham, UK. Velma has many years' experience as a social worker, working on the Children's Disability Team of the Birmingham City Council, in child protection investigations, and court work and permanency planning. She has been the Liver Unit Senior Specialist Support Worker/Social Worker since 2010.
Strategies to Support Families Facing Intestinal Transplant
Following this presentation, the participants will be able to:
List three stressors commonly encountered by families after intestine transplant.
Discuss interventions that are most helpful to parents who are coping with an extended hospitalization.
Discuss how community services can be implemented for long term care needs.
Moderator
Jemma Mears PT. Principal Physiotherapist for Hepatology and Transplantation at Birmingham Women's and Children's NHS Foundation Trust.
Jemma is the Principal Physiotherapist in transplant and has extensive experience in liver and intestine transplantation from pre-transplant assessment through transition to adult care. Her primary area of interest is in developmental delay associated with liver/intestinal failure and transplantation and the long-term physical outcomes and physical health post-transplant.
Organizer
Beverly is a Clinical Nurse Specialist for the Department of Transplant Surgery at Children's Hospital of Pittsburgh. She works with liver and intestine transplant patients and their families from evaluation through chronic care post-transplant. Beverly is Chair of the Allied Health Providers Committee of IRTA and on the Board of Directors of IRTA.
---
By viewing the material on this site you understand and accept that:
The opinions and statements expressed on this site reflect the views of the author or authors and do not necessarily reflect those of The Transplantation Society and/or its Sections.
The hosting of material on The Transplantation Society site does not signify endorsement of this material by The Transplantation Society and/or its Sections.
The material is solely for educational purposes for qualified health care professionals.
The Transplantation Society and/or its Sections are not liable for any decision made or action taken based on the information contained in the material on this site.
The information cannot be used as a substitute for professional care.
The information does not represent a standard of care.
No physician-patient relationship is being established.