2010 - Transplantomics and Biomarkers in Transplantation
---
This page contains exclusive content for the member of the following sections: TTS. Log in to view.
MINI-ORAL PRESENTATIONS
4.2 - INNATE AND ADAPTIVE IMMUNE GENE EXPRESSION DYNAMICS...
Presenter: Maarten, Naesens, Stanford, USA
Authors: Maarten Naesens, Li Li, Tara Sigdel, Purvesh Khatri, Neeraja Kambham, Oscar Salvatierra, Minnie Sarw

INNATE AND ADAPTIVE IMMUNE GENE EXPRESSION DYNAMICS AND PROGRESSION OF CHRONIC HISTOLOGICAL DAMAGE OF RENAL ALLOGRAFTS
Maarten Naesens
, Li Li, Tara Sigdel, Purvesh Khatri, Neeraja Kambham, Oscar Salvatierra, Minnie Sarwal. Department of Pediatrics, Stanford University School of Medicine, Stanford, CA, USA.
Background:
In renal transplantation, slowly progressive chronic tubulo-interstitial damage jeopardizes long-term renal allograft survival. Both immune and non-immune mechanisms are thought to contribute to this progressive renal allograft scarring, but the most promising targets for timely intervention have not yet been identified.

Methods:
In the current study we seek to determine the driving force behind progressive histological damage of renal allografts, without donor pathology, delayed graft function and clinical or subclinical acute graft rejection. We used microarrays to examine whole genome expression profiles using tissue from 161 unique human renal allograft protocol biopsies obtained within the first two years from two independent patient cohorts: a cross-sectional cohort [N= 89] and a longitudinal cohort [N=72].

Results:
In this highly cross-validated study, we demonstrate a major shift in global gene expression when rejection-free renal allograft biopsies obtained post-transplantation were compared with pre-implantation samples, with highly significant overrepresentation of immune genes involved in mostly adaptive immune responses, i.e. T- and B-cell associated transcript sets. In post-transplantation samples, we demonstrate the highly significant association of established, ongoing and most importantly also future chronic histological damage with regulation of adaptive immunity (T-cell and B-cell transcript sets) but also innate immune response genes (dendritic cell, NK-cell, mast cell and granulocyte transcripts), even in the absence of classic types of acute T-cell mediated or antibody-mediated rejection as defined in the current Banff classification.

Conclusion:
Progressive chronic histological damage after kidney transplantation is associated with significant regulation of both innate and adaptive immune responses, months before the histological lesions appear. This study therefore underscores the complexity of the immunological processes in human kidney transplantation, and corroborates the hypothesis that quantitative inflammation below the diagnostic threshold of classic T-cell or antibody-mediated rejection is involved in early subclinical stages of progressive renal allograft damage.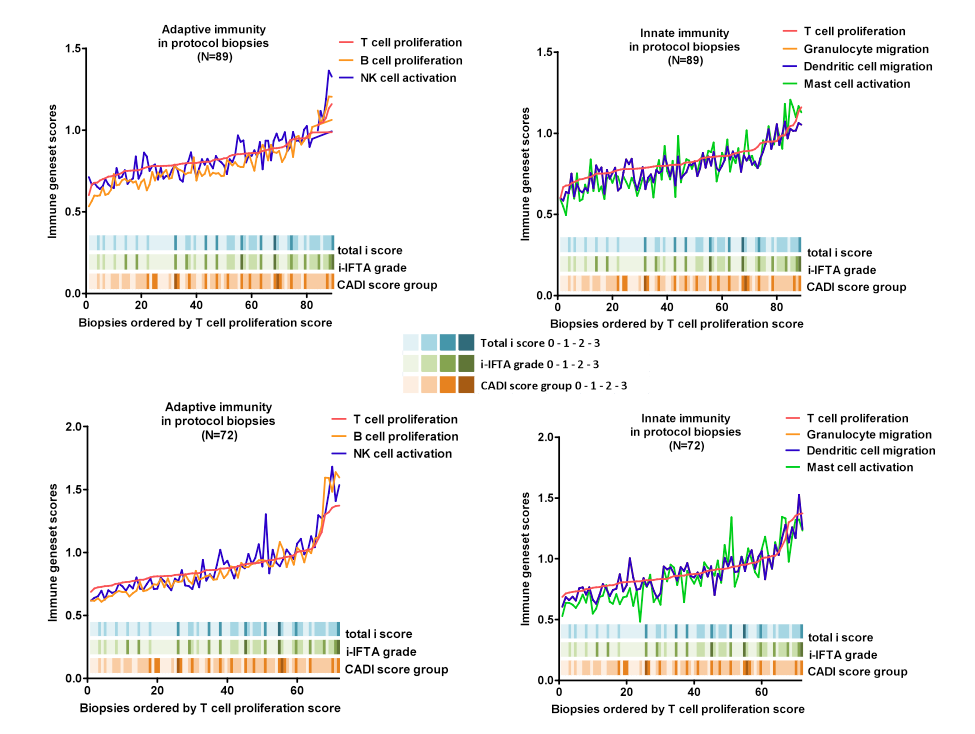 ---
By viewing the material on this site you understand and accept that:
The opinions and statements expressed on this site reflect the views of the author or authors and do not necessarily reflect those of The Transplantation Society and/or its Sections.
The hosting of material on The Transplantation Society site does not signify endorsement of this material by The Transplantation Society and/or its Sections.
The material is solely for educational purposes for qualified health care professionals.
The Transplantation Society and/or its Sections are not liable for any decision made or action taken based on the information contained in the material on this site.
The information cannot be used as a substitute for professional care.
The information does not represent a standard of care.
No physician-patient relationship is being established.