Young Members Committee
The Young Members Committee is seeking active TTS members from Asia-Pac, Middle East, Africa and Latin America who want to take an active role in representing their regions.
Email
This email address is being protected from spambots. You need JavaScript enabled to view it.

if you are interested!
A reporter wrote an article on the illicit trade in human organs. Now people from all over the world email me trying to sell their kidneys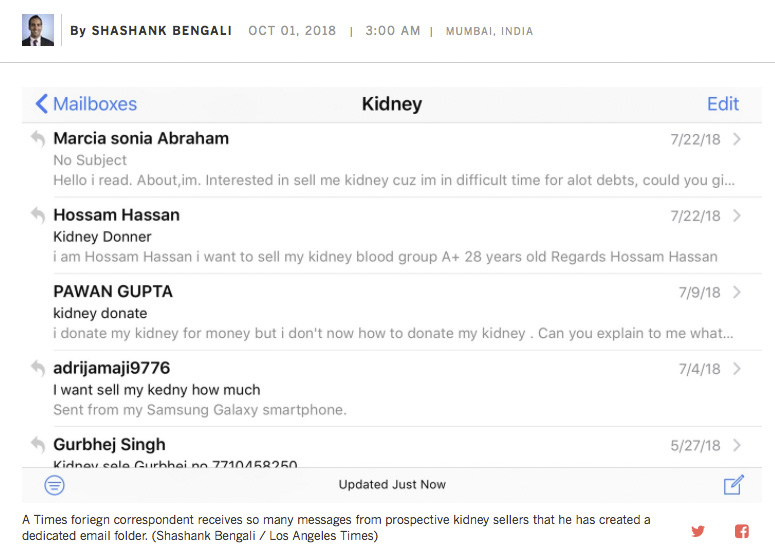 October 1 - As a foreign correspondent, I was accustomed to seeking out people in difficult circumstances. Now they were seeking me out, showing up in my email at all hours — when I was writing another story, racing to catch a flight, having dinner with my wife at home in Mumbai or trying to rock one of our newborn twins to sleep — and becoming impossible to ignore..
In the News
Chung-Ang University Hospital succeeds in 3D-printing chest transplant
Professor Park Byung-joon and his team at Chung-Ang University Hospital's Department of Thoracic and Cardiovascular Surgery announced on Thursday the successful surgery results of transplanting a 3D-printed ribcage to a patient with sarcoma, a malignant tumor that invaded the thorax.
---
Chronic allograft injury common among pediatric liver transplant recipients
September 28 - A substantial proportion of pediatric liver transplant patients with normal liver tests have varying degrees of subclinical chronic allograft injury, according to new findings. For the study, Dr. Sandy Feng of University of California, San Francisco, and her colleagues used data collected for iWITH, an immunosuppression-withdrawal trial that included 157 stable long-term recipients of liver transplants from living or deceased donors (45% boys).
---
COPD in patients after heart transplantation is associated with a prolonged hospital stay, early posttransplant atrial fibrillation, and impaired posttransplant survival
September 27 - COPD is associated with reduced physical activity, an increased risk for pulmonary infections, and impaired survival in nontransplant patients. The aim of this study was to investigate the influence of COPD in patients after heart transplantation (HTX).
---
Kidney Transplant Success Improved by Swedish Biotech's Drug
There is hope for many patients on the kidney transplant waiting list, as a Swedish biotech's lead candidate drug could help reduce rejections in kidney transplant patients.
---
Clear up this stem-cell mess
September 26 - Confusion about mesenchymal stem cells is making it easier for people to sell unproven treatments, warn Douglas Sipp, Pamela G. Robey and Leigh Turner.
---
HIV positive mom's liver transplanted into HIV negative child
October 4 - Johannesburg- In what is believed to be the first in the world, researchers at Wits University have transplanted a liver from an HIV positive mother to her HIV negative child.
---
Would you rather die of liver failure or live with HIV?
October 4 - This was the ethical dilemma faced by doctors at Wits Donald Gordon Medical Centre to save a child's life.
---
Heart transplant outcome linked to gut bacteria, study finds
October 4 - Gut bacteria appears to play a key role in whether a body accepts a transplanted heart, according to a new study. The study found bacteria appears to play a key role in the whether a body accepts a transplanted heart. The overall survival rate in the United States of heart transplants is about 88 percent after one year and about 75 percent after five years